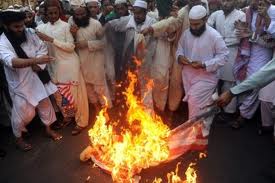 Once again, the demonstrators took to the streets protesting against the US-led NATO strike.
A deep sense of anger runs across Pakistan over the worst cross-border attack so far by the US. These protestors are calling for an immediate end to the country's support of its so-called ally, the US.
In response to the attacks, Pakistan has shut down key NATO supply lines through its territory and ordered the US to vacate Shamsi airbase, which is reportedly used as a launching pad for drone attacks. The government has also decided to review all political, diplomatic and military ties with Washington. Pakistani Senate unanimously approved resolution against NATO attacks, but will this have an impact remains to be seen.
Army chief Gen Ashfaq Parvez Kayani upped the ante in the standoff with the US by telling his troops that aggressors would not be able to evade a crushing retaliation in the future and asked them to respond to any attack without waiting for command's directions. While on the other side of the border, according to official sources two Pakistani civilians were shot dead by NATO personnel in Helmand province of Afghanistan. Afghan border authorities handed over the bodies to Pakistan at the Shabian border point in Chagai district.
In the aftermath of the attack, it is becoming less clear than ever exactly what the status of relations between the two countries really is. The US has refused to officially apologize. Meanwhile, Pakistan has reacted with justifiable anger but it, too, seems confused in its approach. Analysts say the NATO attack will not only have huge implications for Pak-US ties but also for the Afghan endgame if Pakistan deprives the Afghan talks in Germany next week of a key player.