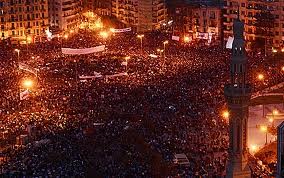 In Tahrir Square in the symbolic heart of the revolution, people remain and the feeling is festive, artist's gather, Egyptians sell their wares and in field hospitals the doctors redress previous wounds and including some of their own.
Small groups of people rally together to shout their demands in a friendly fashion as protesters organize themselves, spreading awareness rejecting the leadership of Newly appointed Prime Minister Kamal el Ganzouri and electing leaders to represent a united protesters voice.
Since a week ago there has been little evidence of political parties in the Square and the among organized groups some individuals are boycotting the elections on Monday claiming that it is not the right way to move forward at this time
As protesters prepare for another million man march, several tents remain pitched in and around Tahrir Square but whether the people will be allowed to remain during the elections period or not is unclear.
The feeling here in Tahrir Sq this evening is mixed, some are saying they will vote on Monday's election and others are undecided.