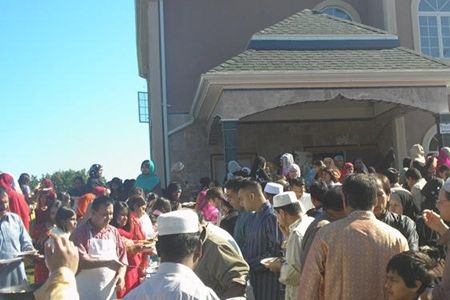 During noon at Seoul's Central Mosque, Muslims gather to pray for one of the daily prayer sessions. There are around 200,000 Muslims now in South Korea and many of them are converted Koreans.
The Imam himself became interested in the religion and converted because he lived near the mosque. One converted Korean who's been Muslim since 1981 explained the religion's draw in Seoul.
There is a large community catering towards the Muslims in the Itaewon area of Seoul next to the Central Mosque. And on the surrounding streets one sees the Islamic neighborhood that has emerged with the rise in Muslims.
The growing number of migrant workers from Islamic countries are also contributing to the Muslim population here. And the community has now grown large enough to create the demand for a school.
The draw of the school – which teaches around 75 children through sixth grade – is the curriculum of four languages. This emphasis on foreign languages attracts a wide variety of children, including many Koreans.
The school plans to open higher education classes at some point because the rise in the Muslim population is also carving out interest in more Islamic teaching for older students.