IIT Exclusive News
Iran
Iraq
Middle East
North America
Photos
Videos
VIDEO: Satanic US Embassy sieged by angry Hezbollahi protests over airstrike on PMU
The United States' Embassy in Baghdad has been evacuated after thousands of angry Iraqi demonstrators gathered outside the gates of the compound to condemn Washington's fatal military aggression that targeted Iraq's Popular Mobilization Units (PMU).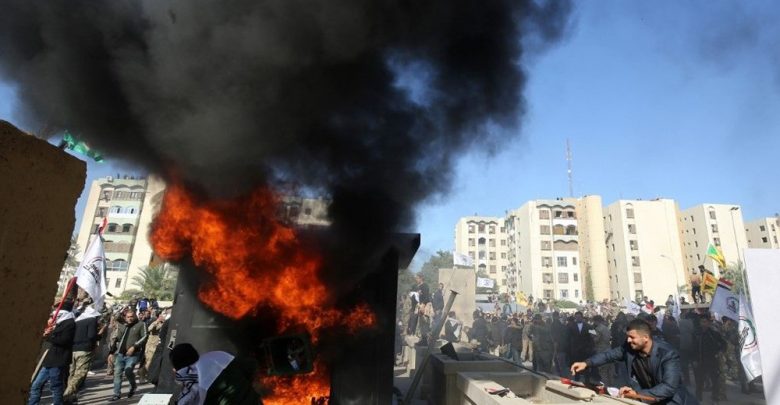 Also on Tuesday, Iraqis held a massive funeral procession in the capital Baghdad for the victims of the US air raids, which killed at least 25 PMU fighters from the Kata'ib Hezbollah faction and injured over 50 others in Anbar Province.
Caretaker Prime Minister Adel Abdul-Mahdi has announced three days of public mourning.
Thousands of angry protests managed to reach the US diplomatic mission which is located in Baghdad's heavily fortified Green Zone, chanting 'Death to America' and burning US flags.
The protesters further held up signs calling for the US mission to be shut down and for the parliament to order US forces to leave Iraq.
"Parliament should oust US troops, or else we will," one poster read.
Top cleric condemns US strikes on PMU bases, urges respect for Iraq sovereigntyThe drone strikes killed at least 27 individuals and wounded 51 others.
Reuters cited two Iraqi Foreign Ministry sources as saying that the US ambassador and other staff were evacuated from the embassy out of security concerns as protests raged outside.
Only a few embassy protection staff were left behind, according to the Reuters.
Iraq's Sadr says ready to work with Hashd al-Sha'abi to end US presenceInfluential Iraqi cleric Muqtada al-Sadr says he is keen to work with the PMU – his political rivals – to end the US
The protesters, according to the AFP, have breached the outer wall of the high-security compound, prompting the American forces deployed inside to fire tear gas and flash bangs to disperse the crowds.
The demonstrators sprayed the words "Closed in the name of the people" on the gates of the American mission, throwing bricks and stones at the surveillance cameras around the building.
Outside the mission, Iraqi security forces fired teargas as they tried to prevent the protesters from making their way into the diplomatic compound.
Only a small amount of teargas was used and the PMU members taking part in the rallies, using loud speakers, urged the crowd to disperse, a Reuters witness said.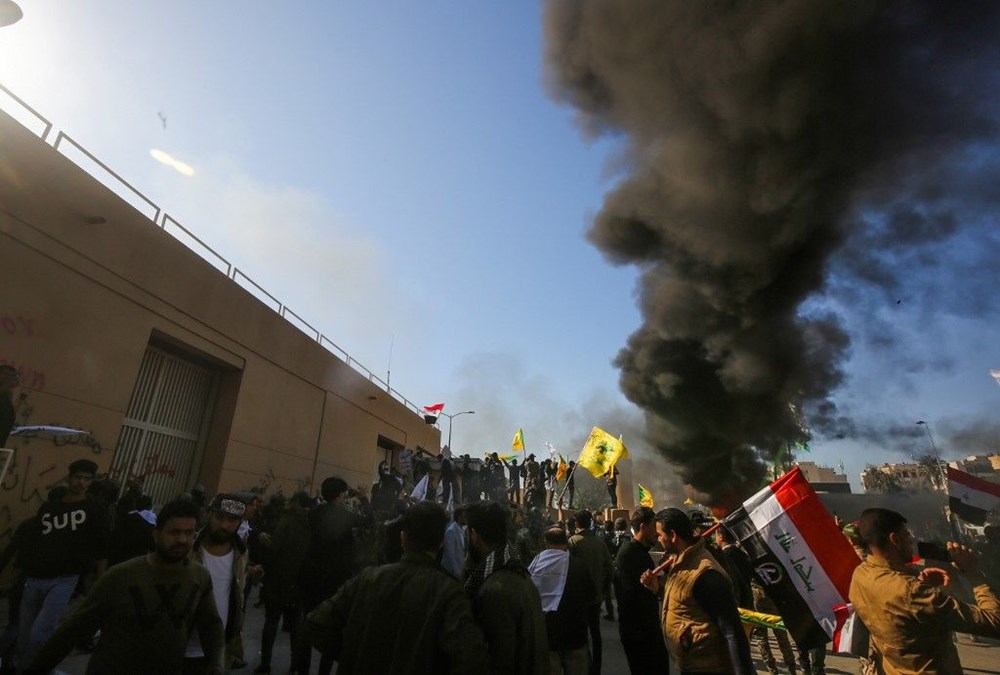 'US unwanted in Iraq'
Hashd al-Shabi commander Faleh al-Fayyadh and Kata'ib Hezbollah commander Abu Mahdi al-Mohandes along with other senior Hashd leaders were among the protesters.
Speaking to Reuters, Qais al-Khazali, the head of Asaib Ahl al-Haq — another PMU faction — said "Americans are unwanted in Iraq. They are a source of evil and we want them to leave."
Many protesters have set up tents, announcing plans for an indefinite sit-in until the embassy is closed and the ambassador expelled from the country.
Earlier in the day, Iraqi lawmakers chanted anti-US slogans during a parliamentary session.