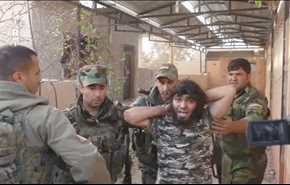 Footage has been released purportedly showing the arrest by Kurdish forces of an ISIS (ISIL, IS, Daesh) terrorists in Bashiqa on Sunday.
Kurdish forces can be seen in the footage, which was released by Rudaw Television, surrounding a house and eventually leading away a man who they believe to be an ISIS terrorists.
The offensive to reclaim the town of Bashiqa is part of the broader push to drive ISIS out of Mosul, Iraq's second-largest city, relieving those living under its occupation from the type of brutality, such as mass killings, that the group has committed.
Bashiqa, which is located about 13 kilometres (eight miles) northeast of the outskirts of Mosul, is said to be largely deserted except for dozens of ISIS terrorists.