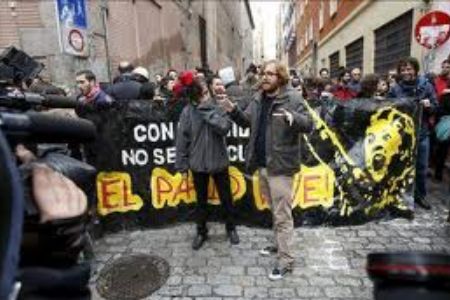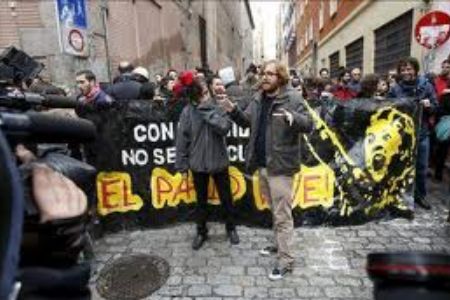 After the demonstrations that hit the heart of Madrid on October 15th, a group of protesters has decided to occupy this five-storey hotel in the central Carretas street, right next to Sol Square, where the 'indignants' gathered for their open general meeting on Saturday night.
After a day of occupation, the police visited the building accompanied with a representative of the hotel owners, the real estate group Monteverde, now bankrupt. The squatters, around 40 people, avoided speaking with both the police and the owner's intermediary and refused to abandon the building. The police did not take any action and left without making statements.
Activists, like Alejandro Pablo Carbonell, have defended their moral legitimacy to squat here by referring to the old squatting movement motto: "An empty building is a squatted building'. They also referred to the rumor that the real state group owning this Hotel Madrid is allegedly related to one of the most blatant cases of corruption in Southern Spain, the so-called Malaya process.
The 'indignant' assembly has to decide about the aim of their action, whether they want to use the building as a meeting place, shelter or social centre. What is clear is that all of the aforementioned fits inside the proposals and ideals of the 15M movement.
Dozens of people deliberate inside about the future of the Madrid Hotel as a permanent cultural house, home of the 'indignant' movement in the capital, but also, as a place for thousands of families who have lost their homes due to the economic crisis. This way, the Hotel Madrid turns into a new symbol of the peaceful public resistance to a capitalist system that according to the occupiers has become obsolete.