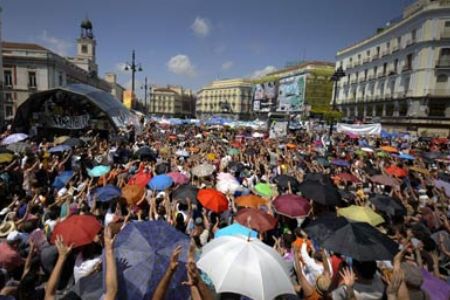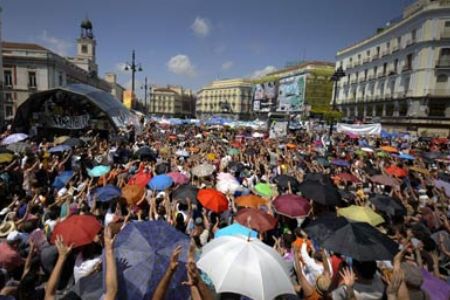 The spokesmen of the 'indignant' movement said about 6,000 or 7,000 protesters took part in a new demonstration in the center of Madrid. The police, that accompanied the protesters on their march with trucks and a strong deployment, gave a lower estimate of 1,200 participants.
The demonstration marched peacefully through downtown streets, and people could be heard shouting taglines such as "we won't pay this crisis" or "no to markets' dictatorship".
The 'indignants' call now for a change in the current model. That denounced the extraction of public services and the hijacking of democracy by the markets. Protesters also wanted a social and ecological economy and they said "no to job insecurity and corruption".
The 'indignant' manifesto that was read in Sol Square at the end of the demonstration provoked a silent standing ovation when the spokesman called for more social housing and said no to housing evictions. He asked for a real democracy and respect for the sovereignty of people, open borders, culture as a common and public good and a free society. These and other points were summarized and submitted to public survey by the 'indignants'.
The results of the public consultation that the indignants have carried out to agree on measures they would like politicians to take into account remain to be seen.
After gathering citizen proposals for change all over Spain, the 'indignant's have presented a manifesto with three main premises: prevalence of the public against the private, a change in the housing model and a new form of social economy.