Syria
VIDEO: Syria denies reports of Daesh military gains near Dayr al-Zawr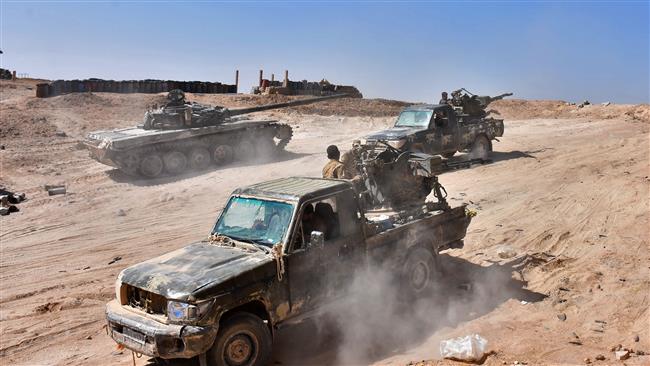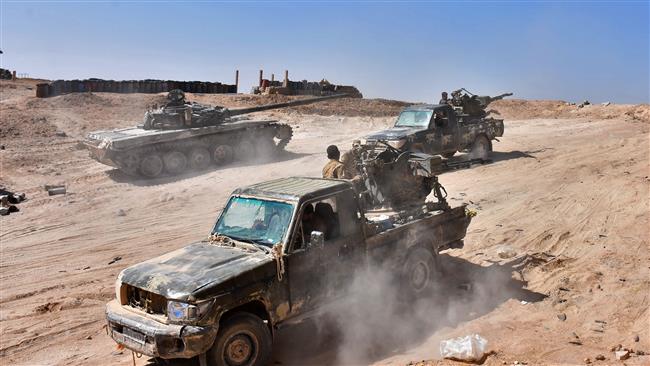 The Syrian military dismisses claims that the Daesh terrorist group has cut off a strategic road connecting Dayr al-Zawr in the east and Palmyra in the central part of the country.
Reuters quoted a Syrian military source as saying Thursday that army forces had thwarted a Daesh attack on the town of al-Shoula located on the road, which serves as a supply route from the government-held territory into the eastern city.
The source was reacting to a report by the so-called Syrian Observatory for Human Rights that Daesh had taken control of al-Shoula as Syrian forces and allied fighters were involved in battles around the eastern city.
"They received a blow and did not succeed," the military source added.
Daesh's propaganda media outlet, Amagh, also claimed on Thursday that they had captured two Russian forces. The Russian Defense Ministry, however, denied the claim, RIA news agency said citing a Russian military official at the Hmeimim airport in Syria.
"There were no incidents with capturing or losing Russian servicemen in Dayr al-Zawr province and other Syrian provinces," the ministry stated.
In a new report on Friday, the Observatory also said Daesh terrorists had killed at least 58 Syrian government forces that were part of a Russian-backed offensive against some of the terror group's last bastions in Syria.
The Syrian government has not confirmed the new report so far.
With Russian air cover, the Syrian army reached the city of Dayr al-Zawr last month, breaking a three-year Daesh stranglehold on the city.
The towns along the Euphrates River, downstream of the city, have fast become the last major Daesh footholds in Syria and a focus of the multi-sided war.
Dayr al-Zawr clean-up operations
Meanwhile, the Russian military says its experts have found and destroyed over 1,500 explosives during their mop-up operations in the streets of Dayr al-Zawr amid ongoing Syrian army operations to cleanse the city and its surrounding areas of the remaining terrorists.
A group of 170 mine clearance specialists were sent to the Syrian city shortly after the city was freed from Daesh control. They have cleared 8 kilometers of roads, 8 buildings and about 3 hectares of the surrounding terrain.
"At present, engineering reconnaissance and mine clearance teams are working on clearing roads, roadsides and adjacent buildings at entrances to the city and its outskirts, to ensure the safety of humanitarian convoys sent to the city of Dayr al-Zawr," the Russian Defense Ministry said.
Russian military officials estimate up to 1,500 hectares of land should be cleared of explosives after Daesh terrorists booby-trapped the city and its vicinity as they retreated.
Source:Presstv