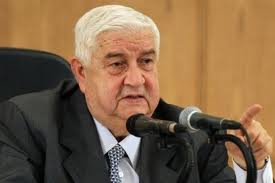 In a press conference, Syrian Foreign Minister Walid al-Moallem said that the protocol presented by the Arab League reflected unstable stands by some of its member states of the League and the ministerial committee that are following up the Syrian issue.
The foreign minister also said Syria received on Saturday a reply to the letter it sent to the Arab League concerning the amendments Syria asked for in the Arab League's protocol of sending a delegation of observers to Syria.
Al-Moallem said the Arab League's mission would be free to go to any spot in Syria.
Following a meeting in the Moroccan capital of Rabat, the AL proposed to dispatch an observer mission to Syria in an effort to end the unrest in country.
Syrian FM said he will send the Arab League some inquiries and then decide whether Syria would sign the protocol or not.
He then accused some Arab sides of using the Arab League as a tool for embroiling the UN in Syrian affairs.
Stressing that the national dialogue would be held in Damascus, the foreign minister assured that there would not be civil war in Syria.
Syria has been experiencing unrest since mid-March, with armed groups terrorizing the Syrian people and undermining security and stability.
This comes as tens of thousands of Syrians demonstrated in al-Hijaz square in Damascus condemning the Arab League and rejecting foreign interference in their country.
Syrians voiced support for reform under President Assad leadership and for the national Syrian independent decision.
They stressed that the only solution for the crisis in Syria would be a Syrian solution, pushing away any possibility of a civil war in Syria.
Syrians are rallying now on a daily basis reiterating their full rejection of foreign intervention. They said they would stay united against any plot targeting their country.