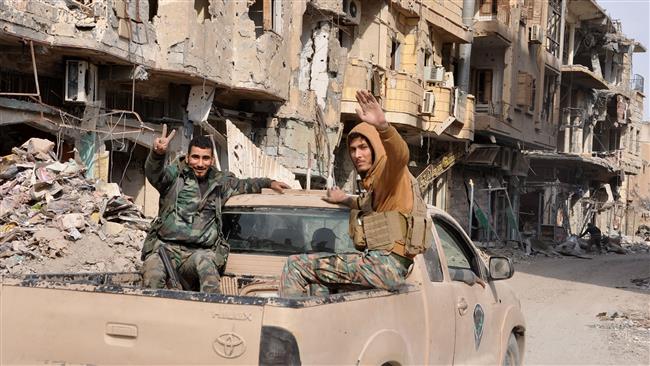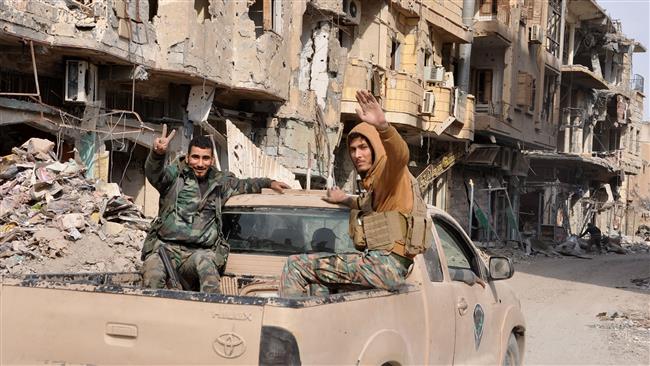 The Syrian forces along with allied fighters from Lebanon's Hezbollah resistance movement have liberated Bukamal, the last major Daesh-held town in Syria.  
"The last stronghold of Daesh, Bukamal, is free of the Daesh organization," said the Syrian commander of the operations on Wednesday night.
Hezbollah fighters were "the foundation in the battle" he noted, adding that hundreds of the elite forces took part in the liberation operation.
Meanwhile, Syrian army units have reached Iraqi government stationed along the border of the town.
Reuters initially reported that Iraq's Popular Mobilization Units (PMU) also had a significant role in capturing of the city but later retracted the statement after it was denied by the Iraqi forces.
"Our movements are carried out under orders from the commander in chief of the armed forces and our key objective is to liberate Iraq's territories from Daesh. We have no orders to cross the borders," said spokesman Ahmed al-Asadi said.
Earlier, the Lebanon-based Arabic-language al-Manar television network reported that the Iraqi army and their allies crossed into the city, which is located in the country's eastern province of Dayr al-Zawr.
The Syrian army and its allies broke Daesh's three-year-old siege on Dayr al-Zawr in September and fully liberated it on Friday.
Dayr al-Zawr is the capital of an oil-rich Syrian province of the same name, which borders Iraq. The city used to serve as the main Daesh stronghold in Syria after the terror group left Raqqah in the north to US-backed Kurdish militants.
Syria has been gripped by foreign-backed militancy since March 2011.