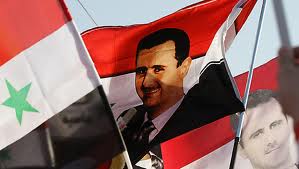 Pro-government supporters have gathered in Al-Midan Neighborhood in the Syrian capital Damascus.
They expressed support for the comprehensive reform program led by President Bashar Assad. The neighborhood had previously witnessed anti-government protesters and sometimes gun shooting by unidentified gang groups.
Syrians raised the Syrian flag and posters of President Assad. They said they will stand united in the face of what they call a conspiracy targeting their country.
This is Abu Habel street in Al- Midan neighborhood One of the places that witnessed tension in the Syrian capital Damascus. The rallies here come as more members of the Arab League's mission of observers arrive in Damascus.
The Arab League observers have visited Baba Amro neighborhood in Homs in addition to other parts of the city. Some members of the AL observers' mission headed to Dara'a and Hama. They also toured a number of places in Damascus countryside. The total number of observers who have arrived in Syria so far is around one hundred observer.