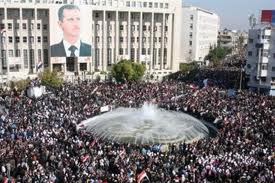 Hundreds of Syrians have rallied in cities across the country, rejecting the Arab League's imposition of sanctions against Syria. They packed into Saba' Bahrat square in the capital Damascus, rejecting foreign intervention in Syria's internal affairs.
Pro-Assad demonstrators chanted slogans stressing their support for the Syrian president and his reforms program. They said only a Syrian solution should solve the crisis.
It's another week in Syria that witnesses large numbers of Syrians rejecting AL decisions and foreign interference in their internal affairs. They are calling for the national unity in the face of what they call conspiracies.
Meanwhile, a number of Syrians have staged a sit-in in Bab Touma in Damascus. They signed and put their fingerprints on papers that they said would be sent to president Bashar al-Assad asking him to free the occupied Syrian Golan Heights and Iskenderun.
Syrians in Bab Touma also expressed support for the president. They said every occupied Arab land should be restored to its legitimate owners.