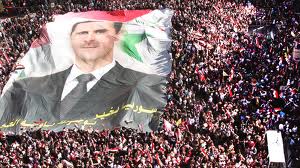 In appreciation of the Syrian army's sacrifices for the homeland's security, masses of Syrians gathered in the Umayyad square in the Syrian capital Damascus shouting slogans that express their unity.
The Syrian people performed the armed forces oath of allegiance to defend their homeland and preserve its independence and sovereignty. They also expressed support for their president's reform program.
A seven meter monument representing the Syrian Arab soldier was unveiled. It is made of clay, plaster, steel and fiberglass.
Syrians observed a minute of silence in honor of the army martyrs. They also chanted the Syrian national anthem and launched balloons shaped like the Syrian flag.
Syrians rally nearly on a daily basis. This time, they say they are gathering mainly to salute the Syrian Arab army. In the meantime, they honored children of martyrs' who sacrificed their lives for the sake of the homeland.
Three hundred martyr's children coming from five schools were honored in al-Andalus palace. They expressed proud of their parents.
The children were handed gifts as a symbol of gratitude for their parents' sacrifices. Speakers addressed the children saying they should be highly educated and increase their knowledge, pointing out that they will be the nucleus of the future in Syria.
The Syrian Arab army was established in 1945. The number of Syrian army personnel are nearly seven hundred thousand. The Syrian government says more than 1100 army forces have been killed since the unrest began in mid March.