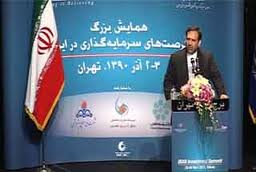 A red carpet and the government's full support for foreign investors in Iran. This was a pledge made to the guests attending Iran's investment summit by the Iranian Minister of economy Seyyed Shamseddin Hosseini. The gathering was also attended by Iran's President Mahmoud Ahmadinejad, and Iran's oil and trade ministers.
Delegates from some 25 Asian, European and American countries came to Iran to closely monitor investment opportunities in the Islamic Republic.
The Iranian oil minister Rostam Ghasemi said that the Islamic Republic offers unique investment opportunities in energy sector given its huge oil and gas recourses.
The event is held at a time when the Unites States, Britain and Canada have unilaterally decided to sanction Iran's banking sector over the country's nuclear energy program.
Every year ministries of trade and economy hold numerous events inviting foreign business owners and investors to Iran where they are usually taken on tours to visit Iran's tourist hubs, free trade zones and industrial areas.
Many of these traders believe that business and politics should not be mixed together. They look at Iran as a lucrative market with unique advantages in the field of energy, transportation and accessibility to other markets in the region.
Businessmen hope that Iran's red carpet would lead them to more profitable deals in Iran and the rest of the region.