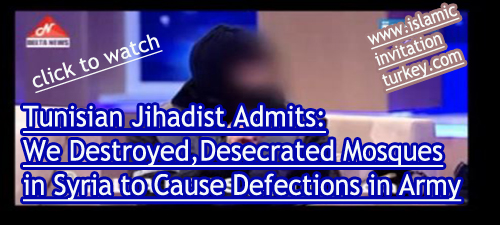 For YouTube Link:
http://www.youtube.com/watch?v=ejlBlOsVBSI&feature=youtu.be
The full video in Arabic:
The YouYube Link for in full Arabic:
http://www.youtube.com/watch?v=JQQsgZZXIo4&feature=youtu.be
Tunisian Jihadist Admits We Destroyed, Desecrated Mosques in Syria to Cause Defections in Army
A Tunisian Jihadist, whose alias is Abu Qusay, states in an interview with Tunisian TV in Tunisia that, when he was in Syria, he was tasked with destroying and desecrating Sunni mosques to cause Sunnis in the Syrian Army to defect while making it seem as if it is a sectarian attack by Shiites. He also mentioned desecration of mosque walls by writing pro-government slogans or even what is deemed blasphemous to the Islamic faith. He also confirmed that videos that came out of Syria showing a man forced to state that "there is no god but Bashar" was fabricated for the same purpose.