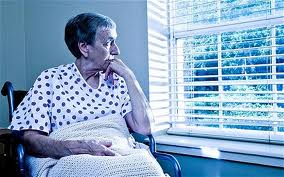 The young people of Britain have been vocal about Government cuts. But there's one group in society who have been directly affected, but aren't out on the streets protesting.
Around ten million people in this country are over the age of sixty five. Many of these older people receive social care, to assist them with everyday tasks, providing them with sustained independence.
But according to a report by the British Equalities and Human Rights Commission, many elderly people are being mistreated to the extent that their human rights are being breached.
Around twenty percent of Britain's elderly people living at home receive some form of care. For nearly half a million, this is provided by their local council. But because of Government austerity measures, one in three councils have had to cut back on home care spending, and one in five plan to do so in the next year.
But what this report also highlights is that the general attitude towards the elderly in Britain is failing.
Half of the people questioned for this report were perfectly happy with the standard of care they received, in fact they said that they valued it. But when the abuse is bad, it's really bad. The report found instances of physical and financial abuse, a lack of attention towards what elderly people want, and in some cases treating them "as though they were invisible".
For some, the treatment is distressing.
The report recommends that the protection by law given to elderly people living in care homes is extended to those receiving care in their own home.
It wants the Government and local authorities to provide effective monitoring of human rights, and for clear guidance to be issued to councils to promote and protect older people's rights.
In response, The Department of Health has announced that the Care Quality Commission in the UK is to launch a program of inspections of two hundred and fifty providers of home care.
Its aim is to ensure that those receiving care in their own homes are treated at all times with dignity and respect. Steve McCaul, Press TV, London.