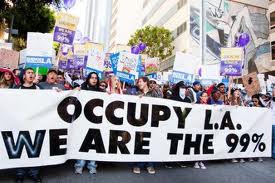 Occupy protesters have gathered on the steps of the Federal Reserve Bank of Los Angeles, southern California demanding an 'End to the Fed', Press TV reports.
Tuesday evening about 100 protesters, holding signs and a large banner that read "End the Fed," took turns addressing the crowd and calling for an end to the Federal Reserve.
The Federal Reserve System (also known informally as the Fed) is the central banking system of the United States.
The group marched from the Occupy LA campsite at City Hall to the Federal Building for the peaceful rally, which is part of a nationwide protest against the twelve Federal Reserve Banks.
One protester called for Americans to take their country back from bankers.
The latest reports say city officials have offered protesters, who have been camping on the City Hall lawn for the last week, an indoor space and asked them to vacate the City Hall lawn.
In San Francisco police had arrested several protesters on Sunday during a raid to evict demonstrators from their encampment outside the Federal Reserve Bank.
Protest organizers say they are facing zero tolerance from city officials and police.
The protests are in solidarity with the Occupy movement, which emerged on September 17 when a group of demonstrators gathered in New York's financial district to protest social inequality and high-level corruption in the country.
Despite police hindrance and mass arrests, the Occupy movement has now spread to major US cities, and inspired similar pushes across the world, including those in Australia, Britain, Germany, Italy, Spain, Ireland, and Portugal.