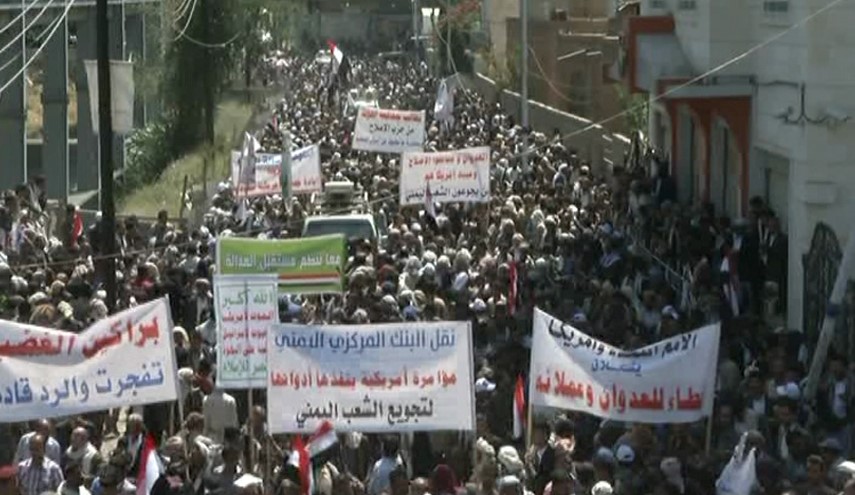 Thousands of Yemenis have taken to the streets of the capital, Sana'a, to denounce a recent Saudi airstrike that left hundreds of civilians dead or injured and prompted global condemnations.
Carrying flags and placards, the demonstrators gathered outside the United Nations office in Sana'a on Sunday to express their outrage at the Saudi aggression against their country.
The protest rally was called by Yemen's Supreme Political Council on Saturday.
More than 140 people were killed and over 525 wounded on Saturday, when the Saudi airstrike hit a community hall in southern Sana'a, where a funeral for the father of Interior Minister Jalal al-Roweishan was being held.
The Saudi missiles tore through the hall with hundreds of body parts left strewn in and outside the building.
The death toll was one of the largest in a single incident since March 2015, when the Riyadh regime began its deadly campaign against to crush the Houthis and their allies and restore power to the resigned Yemeni president, Abd Rabbuh Mansur Hadi.
Sana'a Mayor Abdel Qader Hilal was reported to be among the victims of Saturday's assault.
In another development on Sunday, Hamza al-Houthi, a senior member of the Houthi Ansarullah movement, accused the Saudi kingdom of trying to hide its crimes in Yemen to prevent the international bodies from decrying its misdeeds.
"Saudi Arabia's denial of its crimes in Yemen at this time is a tactic used to cover them up and prevent investigative committees from exposing the dimensions of these crimes," Houthi said.
The Scenes of Saudi jets' bombardment broadcast on TV are strong proof of the Saudi crimes in Yemen, Houthi further pointed out.
The official also called on the international community, with the United Nations at the helm, to take a practical and explicit measure in response to the attack.
The comments come after Saudi military spokesman Brigadier General Ahmed Asiri refused to take responsibility for the fatal aerial assault in Yemen, saying an investigation must be launched into the incident.
He also warned that the Yemeni forces would take revenge against the aggressors.
Yemen steps up retaliatory raids
Following the deadly raid, Yemeni forces began a new series of retaliatory air attacks against Saudi military positions in the kingdom's border areas.
According to Yemen's al-Masirah television, Yemeni armed forces fired missiles at the al-Karas military base in Saudi Arabia's southwestern region of Jizan, killing an unspecified number of Saudi troops and destroying their vehicles.
The Yemeni army launched Katyusha missiles at a gathering of Saudi forces at another military position in Jizan.
Yemeni snipers also killed a Saudi soldier at the Matha'an military base in the same region.
Inside the Arab country, the Yemeni army's artillery fire hit a gathering of pro-Saudi militants in Ta'izz Province, with no reports of casualties.