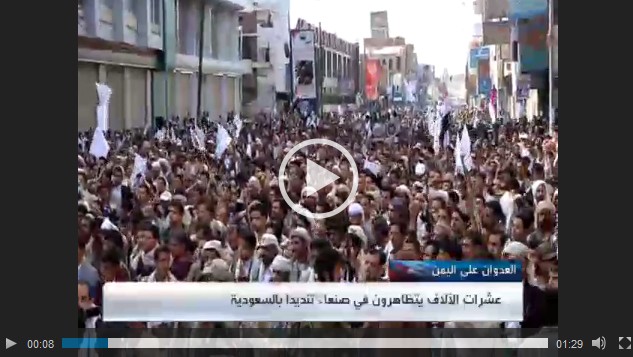 Tens of thousands of Yemeni people in Sanaa take to street against continued bombardment of country, weaponized al- Qaeda by saudis and preventing Aid organization from helping people.
Today at least 20 civilians were killed and more than 50 people wounded in airstrikes by a Saudi-led coalition in the Yemeni capital Sana'a, medical officials said, amid growing international concern about civilian casualties on the Saudis airstrikes.

saudi warplanes bombed the residential area of Sawan in the north-eastern part of Sana'a – in addition to the dead leaving more than 50 wounded, a medical official told DPA.
International organizations have repeatedly warned that Saudi attacks have exacting a heavy toll on the impoverished country's people.
On Thursday, UN chief Ban Ki-moon warned that Yemen's infrastructure, including telecommunications, health, water and sanitation systems, were "on the brink of collapse."
According to the UN, more than 1,200 people have died and 300,000 have fled their homes in the past six weeks.
Today Popular Committee Forces in response to Saudi aggression, attacked the border line and military posts in the city of Najran, Saudi Arabia, and killed 16 Saudi soldiers.