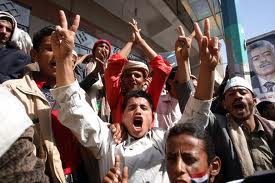 Yemeni revolutionaries again took to the streets of the capital Sanaa demanding Ali Abdullah Saleh be tried in an international court for what they called crimes and excessive force against the people.
Chanting anti-regime slogans, protesters stressed that they would reject any peace initiative which would go against the goals of the revolution.
Saturday's protesters also condemned the US and UN intervention in Yemen's political affairs, stressing it has only given regime forces more time to kill peaceful protesters.
The revolutionaries have urged the US and other western countries to stay out of Yemen, politically and militarily.
People say the military reinforcements to the capital Sanaa suggest the government is planning for an all-out assault in the coming weeks. This came after Saleh hinted in a TV interview that a civil war could be possible if the both parties fail to agree on an end to the crisis.
However, despite this, protesters say they will not back down until all their demands are met.
Revolutionaries have called on the US and other western countries to stop their intervention in Yemen's political affairs. They say that the western intervention has only delayed the primary demands of the revolution, giving Saleh more time to stay in power.