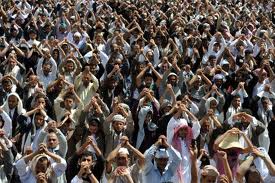 Yemeni revolutionaries have once again come out in force in the capital Sana'a to call for the fall of the regime. Yemeni revolutionaries came out from different areas of the capital and marched toward the city's change square.
Similar demonstrations were also held across the country. In Taiz, anti-regime protesters gathered in the liberation square and chanted anti-government slogan. They also called for ouster of the regime's remnants.
People here at the change square stressed that they are determined to continue what they started six months ago and achieve the revolution's goals. They said they would not back down until they fall of Saleh's regime.
On Monday, at least 31 people were killed and many others injured when government airstrikes hit a mosque and other buildings in downtown Jaar.
As the tension is building up high between the republican guards and the defected army in the city Sana'a, members of the ruling party gathered to discuss a deal brokered by the Persian Gulf Cooperation Council. However, the meeting failed to reach any agreement and the members were asked to gather again to discuss the ongoing crisis.
For the first time after receiving medical treatment in Saudi Arabia for wounds sustained in a June attack on Saleh's palace, prime minister Ali Mojawar attended the cabinet meeting.