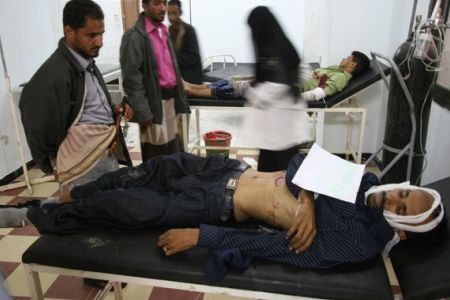 Yemeni forces opened fire on a funeral procession in the southern city of Taiz, killing a number of people and injuring many others.
The attack happened while protesters were participating in the funeral of eleven people who were killed on Thursday's shelling of residential areas.
Protesters took to the streets in cities across the country and condemned the Thursday's bloody crackdown.
In the capital Sana'a, protesters rallied following the Friday prayers, rejecting again the deal brokered by Persian Gulf states as it has given c immunity from prosecution.
On a day dubbed "Friday of independence", people stressed that they continue their protests until they achieve all the revolution's goals.
Human rights activists called on international community to put an end to what they called the bloodshed in Taiz.
Many say the regime has stepped up attacks on protesters as no sanction has been imposed on the government.
Meanwhile, a demonstration was held by Saleh's loyalists in Sana'a. They demanded the implementation of the power transfer deal as the best peaceful way out of the country's political crisis.
Days ago, Saleh handed over powers to his deputy; however, since then the ruling party and the opposition have not reached an agreement on the mechanism of forming a unity government.
Yemen has been wracked by months-long protests which resulted in the death of hundreds of people. Protesters have demanded an end to corruption and unemployment.