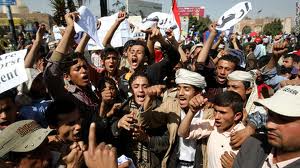 Anti-government protesters in the capital Sanaa have come out in force to protest the Arab League's silence over the crisis in Yemen.
Protests also condemned what they called the "UN's plot to foil the Islamic awakening" in Yemen and the rest of the Muslim world.
The protests came while opposition and regime officials have reportedly agreed to sign a transition deal whereby Ali Abdullah Saleh will over power to his deputy Abd-Rabbu Mansour Hadi, but retain the title of president until early elections.
Reports say that according to the deal, Mansour Hadi will form a military commission that would have the power to sack commanders who refuse to obey orders.
This came after the UN envoy Ben Omar presented a 13-page power transition plan that would see Saleh step down from power no later than 90 days after the agreement is reached with the opposition.
Chanting "the Initiatives means nothing any immunity is rejected", Protesters rejected such a deal which will transfer power to members of the current regime and guarantee them immunity from prosecution.
Despite what might happen as a result of signing the peace transfer deal between opposition and the regime. Protesters say they shall not abandon the liberation square until a sincere transfer of power is implemented, uprooting all traits of the current regime.