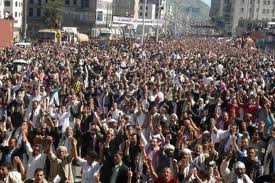 Chanting to the world the revolution will continue, this Friday demonstration attracted a massive number of Youth Protesters to the Sixty Street of the Capital Sana'a, reassuring the revolution will continue till all demands of the Youth are met.
Protesters also made clear that the newly established National Unity Government does not represent the youth protesters, as their aim is to prosecute members of the regime, not be engaged in partnership with them.
Protesters say they will remain in the liberation square and continue their peaceful protests until Ali Saleh and his men are brought to justice.
Addressing a wide audience of different political backgrounds, the Friday speaker stressed that any ideology or any group who tries to cause segregation amongst the revolution will not succeed.
The Friday demonstrations come after a week of heavy clashes in the capital and after the formation of a Military Commission and a unity government established to reconstruct the army forces, and to watch over the affairs of the country during the transitional period.
When asked if the youth protesters have any confidence in the Unity government, protesters told Press TV they will not honor any government that contains members of Saleh regime.
The 34 new members of the unified government headed by Mohamed Basindwa are expected to be sworn in under the Yemeni constitution on Saturday in front of the Vice President Mansour Hadi. This as the Youth Protesters continue to condemn the new government, and have vowed to continue anti-government demonstrations till the entirety of the regime is abolished.
No military commission, no unity government, no negotiations with the regime of Ali Saleh is what protesters are calling for. They also say that they will not allow any person or any faction take their revolution, which youth protesters have sacrificed for throughout the uprising.