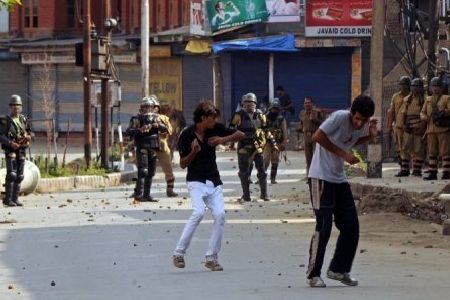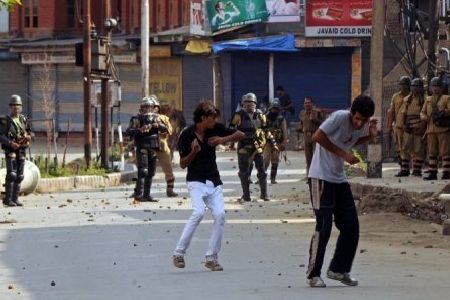 Fresh clashes between government forces and protesters have left several people injured in Indian-administered Kashmir as a new wave of violence sweeps the valley.
Security sources said hundreds of demonstrators took to the streets on Saturday to protest strict curfews in the Muslim-majority region.
Police used teargas and live ammunition to disperse the stone-throwing demonstrators.
"At least 20 protesters and 10 policemen were injured in clashes in more than two dozen locations across Kashmir," AFP quoted a regional police officer as saying.
The violence comes a day after government troops opened fire on protesters in the troubled valley, killing at least four demonstrators.
The killings came as Kashmiris marked the first Friday of the Muslim fasting month of Ramadan.
Police have expanded a curfew and imposed security restrictions in the region's main city and summer capital, Srinagar.
"We have enforced a curfew across Srinagar to maintain law and order," said chief district magistrate Meraj Kakroo.
Police sources said the curfew had been extended to other parts of the Himalayan region as well.
The unrest also comes as India prepares to mark the country's 64th Independence Day on August 15, the day which separatist leaders observe as "Black Day."
Mirwaiz Umar Farooq, a Muslim cleric and an influential moderate separatist, has led thousands of Srinagar residents to protest against Indian rule.
"The protests will continue until India withdraws troops from civilian areas, repeals tough security laws, releases all the prisoners and ends human rights violations in Kashmir," Farooq said.
At least 55 people have lost their lives in clashes with Indian forces over the past two months. Most of the protesters killed have been young men.
Kashmir lies at the heart of more than 60 years of hostility between India and Pakistan. Both countries claim the region in full but have partial control over it.