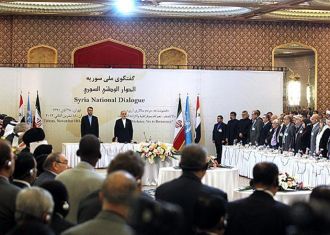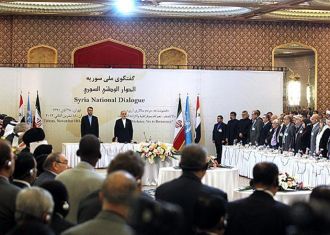 The participants of the Syrian national dialogue meeting, which was held in Tehran on Sunday, emphasized the importance of a halt to the violence in Syria.
The announcement was made by Iranian Foreign Minister Ali Akbar Salehi during a press conference held after a closed-door meeting.
About 200 Syrian citizens, including religious leaders, party leaders, political figures, tribal chiefs, and representatives of Syrian opposition groups, as well as representatives from Turkey, Egypt, Iraq, and a number of other countries, attended the meeting, which was held on the theme of "No to Violence, Yes to Democracy."
During the press conference, Salehi said that Iran "is seeking a peaceful Syrian-Syrian solution without foreign interference."
He also enumerated a number of the agreements made during the meeting.
Salehi stated that it was agreed that "a follow-up committee be established. It was also agreed that members of the follow-up committee, with their own agreement, be chosen from among their intellectuals and a number of people who represent various groups."
"The follow-up committee is supposed to pursue the issue of national dialogue and promote national dialogue among other groups that were invited but unfortunately did not attend for their own reasons, and we respect their reasons and justifications," he added.
In addition, Salehi said that the participants of the meeting emphasized that Syria's independence, national sovereignty, and territorial integrity should be respected.
They also stated that support should be provided to the Syrian people and Syria's borders should be controlled, Salehi noted, adding that the Zionist regime's crimes against the Palestinian people were condemned at the meeting.
The Iranian foreign minister also announced that a number of relevant meetings will be held on Monday.