Iran
VP: Implementing resistance economy, Iran will pass thru intˈl crises intact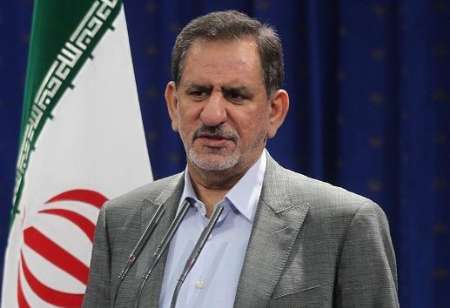 Enemiesˈ current all-out economic war will face defeat after implementing new resistance economy policies that will guarantee countryˈs procession towards development and advancement in the long run, 1st vice president said in a live TV interview.
VP: Implementing resistance economy, Iran will pass thru intˈl crises intact
ˈCountryˈs success and development depends on continuous implementation of precisely scientific policies, but unfortunately, sometimes hurried and unscientific policies along with constant changes have blocked the path for achieving that objective,ˈ said Esˈhaq Jahangiri.
He said that such scientific policymaking must be so sustainable that even with changes in the management of all three branches of power, too, the process of those policesˈ implementation towards the countryˈs progress and advancement would continue unharmed.
ˈWhen the Supreme Leader of the Revolution orders to implement such scientific plans, the defined path should be pursued by any government that takes charge till achieving the final objectives,ˈ he said.
The first vice president said that an economy that would be least affected by the global crises and pathetic developments of the world economy can stand firm on its feet.
Jahangiri pointed out that the opportunity for the countryˈs development has been increased, adding, ˈThe hardworking Iranian nation will pave the path towards development and advancement perfectly well.ˈ
ˈHaving the huge oil, gas, and mineral resources along with the broad-scale infrastructure facilities that have been constructed in the country and the young and committed work force, a strong will for advancement in various fields has been created in the country,ˈ he said.
** Finalizing chronological planning of resistance economy policies till year-end
He said that 40 topics of the resistance economy policies have been divided among the various organizations, in accordance with their duties.
ˈWe have asked those organizations to declare their chronological implementation plans within a certain time period,ˈ said the first vice president.
Jahangiri added that the Planning Deputy of the Presidentˈs Office will by the Iranian year-end (1392 – ending on March 20, 2014), finalize the comprehensive implementation plan of these policies.