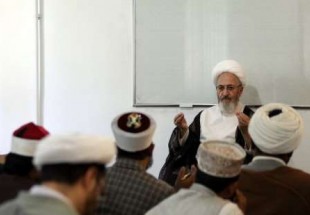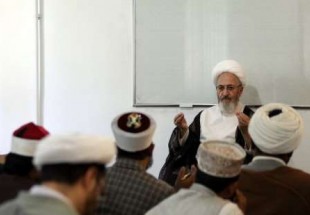 Grand Ayatollah Jafar Sobhani, senior Shia jurisprudent, met with a group of Sunni scholars from India and Indonesia highlighting importance of Islamic unity in Qur'an noting that the dispersed nation should hold to solidarity if it is in pursuit of a solution, reported Taqrib News Agency (TNA).
He referred to importance of Islamic unity in the Islamic countries and role of the enemies in dividing Muslims and said," Several channels are accusing Iran while the only problem of Iran is its pursuit of solidarity among Muslims."
He said," We should have been approved by them if we had allied with the US and Zionist regime of Israel."
Ayatollah Sobhani referred to the dividing policy of the enemies and added," This is a plan by the UK to bring a group called Saudi Arabia to undermine all Islamic sanctities so that Qur'an remains as the only sign of Islam." criticizing Wahhabi movement for its efforts to destroy Islamic sanctities in a bid to undermine the holy religion in future.
The cleric also touched upon the current situation in the Middle East and said," The catastrophe which has plagued Muslims is the fire fueled among Muslims firstly by the west and US and then by Zionist regime so that Muslims kill their peer brothers and destroy the infrastructures so that enemies restructure Muslim lands both for financial achievements and guaranteeing security of the Zionist regime.
Iranian religious figure noted," All disagreements stem from Wahhabism and the movement voice is heard from Salafi groups, Taliban militants, Muslim brotherhood and today it is heard from ISIL terrorist group." Adding," Amid this critical situation even one Zionist is not killed while hundreds of Muslims are slain on a daily basis."
Top jurisprudent warned," Where Wahhabism is present intrigue and division is present too." criticizing the movement for dividing the people across different countries.