Asia-Pacific
Korea
Warmonger South Korea's President Moon says war with North highly possible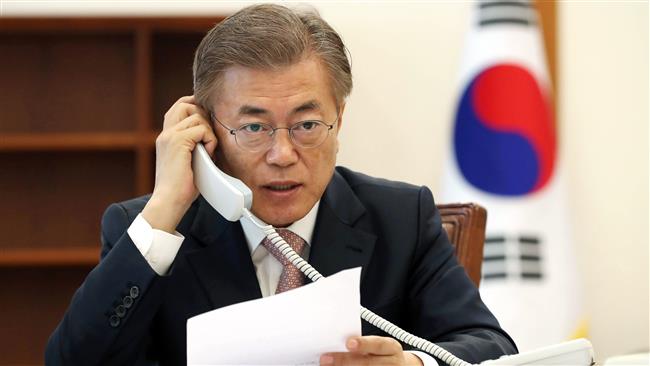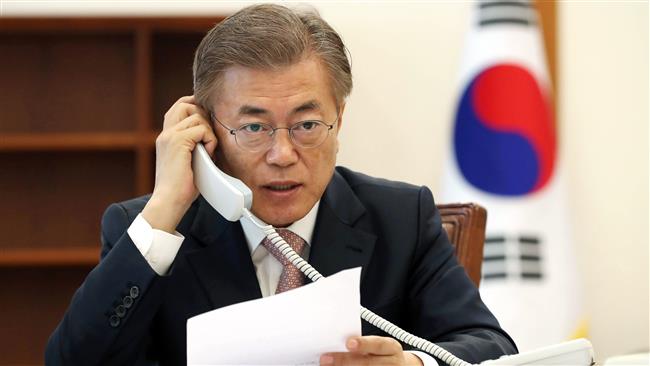 South Korea's newly-elected President Moon Jae-in has warned of a "high possibility" of conflict with North Korea amid the latter's rapidly advancing missile and military nuclear programs.
"The reality is that there is a high possibility of a military conflict at the NLL (Northern Limit Line) and military demarcation line," Moon said during a visit to the country's Defense Ministry on Wednesday.
"We are living in the reality where there is a high possibility of military clashes" along the disputed sea border off the Koreas' west coast or along the heavily-fortified land frontier that divides them, Moon further said.
"I will never tolerate the North's provocations and nuclear threats," he said, urging the South's military to adopt a "watertight defense posture."
The remarks come amid increased tensions between the United States and certain regional countries on the one side and North Korea on the other.
The North Korean missile and military nuclear programs have concerned the US. And the American military presence in the region and constant threats of an invasion of North Korea have concerned Pyongyang.
The remarks also came just days after Moon declared his willingness to work for peace with North Korea following his inauguration as president. He has been known as an advocate of engagement with Pyongyang.
Moon had said, "If needed, I will fly to Washington immediately. I will also go to Beijing and Tokyo and even Pyongyang in the right circumstances… I will do everything I can to build peace on the Korean Peninsula."
Also on Wednesday, South Korea's unification ministry said that the country's basic position was that communication lines with Pyongyang had to open, as President Moon sought a two-track policy, involving sanctions and dialog with Pyongyang.
The ministry's spokesman, Lee Duk-haeng, also said during a press briefing that authorities from the South go to the Panmunjom communications office at the border between the two Koreas on a regular basis to make daily checks for possible responses from the North.
According to Lee, communication channels between the two Koreas were severed by Pyongyang after February 2016, in the wake of sanctions over the North's last nuclear test and its decision to shut down a joint industrial zone that operated inside North Korea.