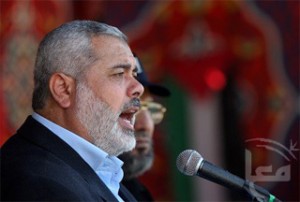 The Palestinian government under premier Ismail Haneyya underlined that resistance is a legitimate right for all Palestinians in face of occupation and aggression as endorsed by international laws.
The government in a press release on Saturday said that the report tabled with the UN over Goldstone report did not include any apologies in this regard, adding that apparently some of the drafting was misinterpreted.
It noted that the Israeli occupation forces (IOF) deliberately targeted civilians in Gaza while no Israeli allegation on civilian casualties was verified by any international party as Israel refuses to cooperate with any investigative group in this regard.
The government, noting that its reply was posted in its name and not on behalf of Hamas or other resistance factions, said that the IOF used internationally banned weapons in shelling civilians, homes, schools, mosques and international institutions.
For his part, the government's minister of justice Mohammed Al-Ghoul told Al-Jazeera TV network on Saturday that no apology was made over the injury of Israeli civilians.
He added that Israel shoulders the full responsibility for the casualties in lines of civilians.