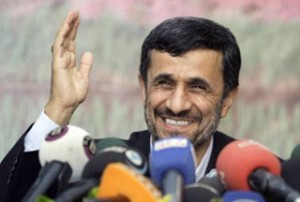 Iranian President Mahmoud Ahmadinejad has urged the US administration to make real changes by ending its support for Israel.
"US President Barack Obama should make a big choice in order to realize his change motto," Ahmadinejad said in Istanbul on Monday, IRNA reported.
Ahmadinejad was in Istanbul for the 25th Session of the Standing Committee for Economic and Commercial Cooperation (COMCEC) of the Organization of the Islamic Conference, which ran from November 8 to 10.
"He should choose between supporting the Zionist regime or friendship with the [Middle East] region's nations because these two are not compatible," Iran's president stated.
"No change is made unless great choices are made," he added.
"We would welcome the changes, and wait for big and correct decisions to be made," Ahmadinejad said.
"We will clasp any hand that is extended sincerely toward us, but changes should be made in practice," he stated.