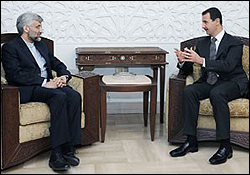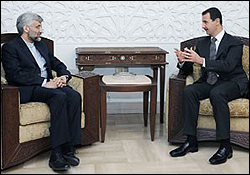 The secretary of Iran's Supreme National Security Council, Saeed Jalili, held a rare meeting with Syrian President Bashar al-Assad during a one-day trip to Damascus on Tuesday.

"The enemies should not be allowed to take revenge on the Syrian people for their defeats at the hands of the resistance," Jalili stated.

The only solution to the Syrian issue is dialogue and respect for the choice of the people, he stated, adding that the Islamic Republic is keen to provide humanitarian assistance to the "resilient" and "suffering" people of Syria.
Assad welcomed Iran's views in regard to developments in Syria and emphasized that the Syrian government is determined to fulfill public demands.
He also said that it is "unacceptable" that certain foreign countries are supporting terrorism in Syria through arming rebels.
Upon his arrival in Damascus, Jalili told reporters, "Iran does not support the solutions imposed on Syria from the outside, and we believe that a new path should be followed, through which the crisis can be resolved based on national and domestic dialogue."
At the end of his trip, the Iranian official told reporters that the only solution to the crisis in Syria is "leaving guns".
He added, "Those who impose the toughest sanctions on Syria, send weapons (for terrorists), or incite terrorist actions in Syria cannot be friends of Syria.
"How can those who have never held an election in their country be advocates of democracy?"
Syria pledges to help obtain release of abducted Iranians
Jalili also held a meeting with Syrian Foreign Minister Walid al-Muallem in which the Syrian official pledged to make the utmost efforts to obtain the release of the 47 Iranian nationals who were abducted near Damascus on Saturday.
In addition, Muallem condemned the terrorist actions being carried out in Syria.
Jalili stated that Iran's principled policy is to help the people of every country attain their political, social, and economic rights.