Palestine
West Bank anti-settlement activists march in solidarity with prisoners and J'lem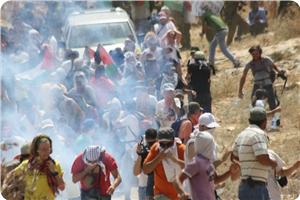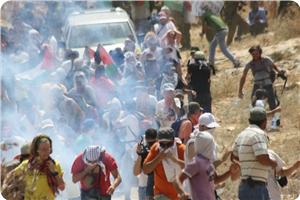 Palestinian and foreign anti-settlement activists on Friday protested Israel's violations against the prisoners, the holy city of Jerusalem and the Aqsa Mosque.
Dozens of activists suffered bullet and tear gas injuries when the Israeli occupation forces (IOF) violently suppressed their peaceful marches in different areas of the West Bank.
The IOF subdued the weekly march in Masarah village and prevented the activists from reaching the annexed land near the segregation wall.
In Kafr Qaddum village, the IOF brutally attacked the march and fired a hail of rubber bullets and tear gas grenades at the protestors.
One child and three activists were reportedly injured during the IOF attack.
In Bil'in and Masarah villages, dozens of activists also suffered injuries as they were trying to march to the Palestinian land near the segregation wall
In Al-Khalil, the weekly march of Beit Ummar town saw violent clashes with Israeli soldiers. One Palestinian was reportedly detained and many others suffered injuries during the events.
Similar clashes with the IOF also took place in the nearby Al-Aroub refugee camp.