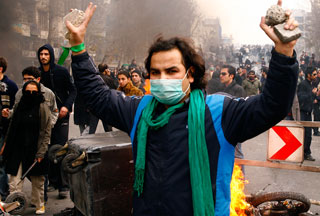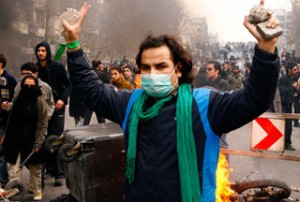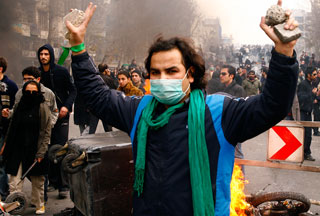 Western countries condemned the crackdown on anti-government Iranian protesters during the religious ceremony of Ashura on Sunday. Tehran accuses foreigners of orchestrating and backing the unrest.
The Iranian capital was the scene of protests on the anniversary of the Muslim Ashura religious event, with security forces clashing with anti-government demonstrators and using tear gas to disperse the crowds.
Press TV learned that the official death count from the unrest has reached eight. In a statement, Tehran's police headquarters named six of the dead while two of the victims have yet to be identified. Police insist that the force neither used violence nor shot a single bullet on Sunday.
Western countries were quick to criticize the reports of the Sunday protests, with the White House strongly condemning the "violent and unjust suppression" of civilians and pronouncing its support for the riots.
"Hope and history are on the side of those who peacefully seek their universal rights, and so is the United States."
Canada followed suit and urged the restoration of human rights in the country, which has witnessed sporadic anti-government protests since the June 12 presidential election.
"The government of Canada condemns the use of brutal violence by the Iranian security forces and once again calls upon Iran to meet its human rights obligations," Canadian Foreign Affairs Minister Lawrence Cannon said in a statement issued late Sunday, AFP reported.
Iran blames Western countries for causing the unrest. Since the election, a number of foreign elements have been rounded up and put on trial for involvement in actions against the security of the Islamic Republic.
A senior Iranian commander reacted to the riots, condemning as "disgraceful" and "reproachable" the acts of "hooligans" on such a holy day — Ashura commemorates the 7th century martyrdom of Prophet Muhammad's (PBUH) grandson, Imam Hussein (PBUH).
On Monday, security forces rounded up a number of Iranian opposition figures, including Ebrahim Yazdi, the secretary general of the Iran Freedom Movement.
France, Germany and Italy also denounced the crackdown. French Foreign Ministry spokesman Bernard Valero said "arbitrary arrests and violence" would "lead nowhere."
German Chancellor Angela Merkel said the "violent clashes" in Tehran are "unacceptable," while Italy's Foreign Ministry said "safeguarding human lives is a fundamental value" and condemned the killings.
The European Union also condemned the use of "violence against demonstrators who are essentially seeking to exercise their freedom of expression and right to peaceful assembly."
The UK, which is accused by Iran of plotting and supporting a major part of the unrest in the country, also reacted to the Sunday incidents. British Foreign Secretary David Miliband said Monday that the reports coming out of Iran were "particularly disturbing."
Meanwhile, Iran's deputy police chief Ahmad-Reza Radan asserted that the force did not use violence against protesters, saying investigations into the killings are underway.
Among those killed was Iranian opposition leader Mir-Hossein Mousavi's nephew. According to the police statement, Seyyed Ali Mousavi was assassinated by a gunshot. Brigadier General Radan said his death was "suspicious."