Europe
West must prove goodwill: Rafsanjani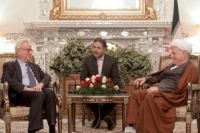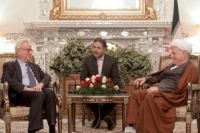 The chairman of Iran's Expediency Council has urged the Western countries to prove their goodwill to Iran in the course of the ongoing diplomatic efforts to resolve the issues regarding Tehran's nuclear energy program.
According to Press TV, in a Monday meeting with the head of European Parliament's (EP) delegation to Iran Hannes Swoboda, Ayatollah Akbar Hashemi Rafsanjani pointed to the developments in Iran following the June election of President Hassan Rouhani and added, "The West should prove its goodwill in its resolve to cooperate with Iran."
Rafsanjani argued that Iran has never sought to acquire nuclear weapons; however, the country cannot ignore the historical rights of its present and next generations to peaceful nuclear energy for the sake of some governments and their baseless propaganda.
The EP delegation of socialist lawmakers arrived in Tehran on Saturday for a four-day visit, during which the European parliamentarians meet with high ranking Iranian officials.
Swoboda, for his part, pointed to the EP's efforts to lift sanctions against Iran and noted that the first steps to achieve that goal has been taken during Iran's recent nuclear talks with the 5+1 group and if the negotiations are carried out based on goodwill the world will witness a better political atmosphere.