Syria
Western countries oppose democracy in Syria: Iranian official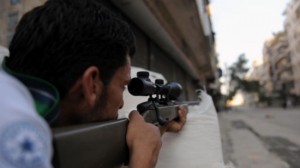 Iran's Foreign Ministry Spokesman Ramin Mehmanparast says Western countries oppose democracy in Syria and are thus against any plan aimed at ending the violence in the Arab country.
"It seems that they are worried that the majority of the people do not support the groups backed by them. In fact, they see democracy not in line with their interests," Mehmanparast said at a press conference in the Turkish capital of Ankara on Tuesday.
Syria has been experiencing unrest since March 2011; many people, including large numbers of army and security personnel, have been killed in the turmoil. The Syrian government says the chaos is being orchestrated from outside the country.
Elsewhere in his remarks, Mehmanparast said Iran and Turkey stand together in the fight against the Kurdistan Workers' Party (PKK), adding both countries are having good cooperation in this regard.
Iran's Foreign Ministry spokesman went on to say that Iran was a victim of terrorism and condemns any form of it.
He also said that Iran seeks the establishment of security in the region, adding that stability is to the benefit of all regional countries.
Stressing that Israel gains the most benefit out of instability in the region, Mehmanparast said Western countries have proved that their main priority in the Middle East is to safeguard the Tel Aviv regime.
He said the presence of Western countries in the region has brought about instability and insecurity to regional countries and that all problem in the region needed regional solutions and there was no need for the presence of foreign forces.