Western Media Admit Massive Turnout in Syrian Presidential Elections Abroad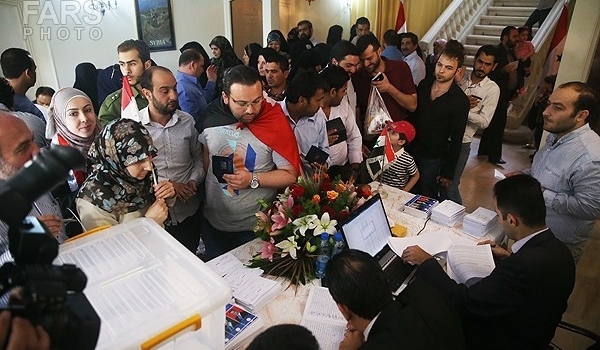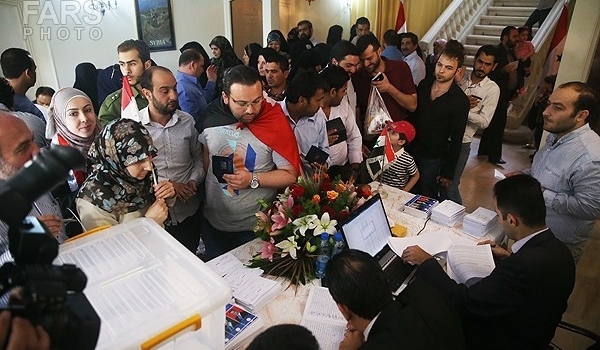 Media outlets across the world, even the ones in those western countries which back up the armed opposition to the Syrian government, were all shocked to see the massive voter turnout in the Syrian presidential election at the country's embassies abroad.
Wednesday was the day of millions of Syrian expatriates and refugees who rushed to the country's embassies abroad to stage a movement of unity and support for President Bashar Al-Assad, a move which almost all western media outlets were forced to acknowledge as a source of shock and awe.
Associated Press reporters were stunned as they reported seeing thousands of voters "clogging entrances to the Lebanese capital for hours and clashing with soldiers overwhelmed by their sheer numbers a week before national elections widely expected to give him (President Bashar Al-Assad) a third seven-year term".
The news agency said President Assad has "maintained significant support among large sections of the population, particularly among Christians, Alawites and other religious minorities". That support has been reinforced as Takfiri militants gained more strength among the rebels fighting to topple him, it added.
Bassem Zammam, a 45-year-old Syrian sculptor who arrived in Sweden as a refugee 45 days ago, was quoted by the news agency as saying that he voted for Assad because he likes Syria, referring to the atrocities committed by the western-backed rebels.
"I like stability, I like (the safety) that we missed because of those savages," Zammam told AP, adding that he initially supported the rebels but changed his view because he felt they weren't really seeking freedom. He said rebel mortar fire had wounded his children and destroyed his house.
The news agency also admitted that numbers of the pro-Assad supporters surpassed the opposition in Sweden, "which has received some 30,000 Syrian asylum seekers since 2011".
"Police stood between the two groups as emotions ran high, with pro-Assad Syrians outnumbering those opposing him," AP said.
"Wednesday's expat voting in countries as far as Brazil turned into a show of support for Assad, particularly in Lebanon…"
"Tens of thousands of Assad supporters flocked to cast ballots at the hilltop embassy in Yarze, a town Southeast of the Lebanese capital, Beirut. The ensuing chaos snarled traffic, trapping schoolchildren in buses for hours and forcing some schools to cancel scheduled exams," added AP.
The massive number of Syrians interested in voting led to the eruption of clashes according to AP. The western news agency, which is a fervent support for armed opposition to the Syrian government, then describes how tens of thousands of Syrians wanted to open their way to the embassy to cast their ballots in support of President Assad, a scene which has apparently made its correspondents and reporters feel shock and awe.
"Clashes outside the embassy compound in Yarze broke out when Syrian voters started pushing against the Lebanese soldiers in their desperation to get into the building. Soldiers beat the voters back with batons and sticks. Overwhelmed by the crowds and the heat, several people fainted. Red Cross volunteers ferried at least 20 people away, giving them water and oxygen masks."
The news agency also said that people began arriving at dawn, some on the back of pickup trucks, others in cars and buses. "Many abandoned their cars to walk the last few kilometers (miles) to the embassy because traffic was at a standstill."
"Hanging out of a car with a Syrian flag in hand, Ibrahim Hadid said he was voting for Assad. "What, you expect us to vote for the traitor Jarba?" he said, referring to the head of the main western-backed opposition group.
AP also reported high voter turnout in other countries, "In Amman, Jordan, where the government supports the rebels, Syrians lined up outside their embassy to vote."
Lima Darazini, a pro-government voter from Aleppo, said she voted for Assad.
"Why? Because we used to live in safety during his rule, and because we love him," she was quoted as saying by AP.
"Long lines formed at embassies in Iraq and Iran and in some European capitals," AP said.
Qatar's Al Jazeera website admitted the huge support for President al-Assad, saying, "This was not an ordinary voting day. It was a parade of Syrians celebrating their embattled president, Bashar al-Assad, and expressing support for him" in the battle to quell the insurgency that erupted three years ago.
"Since early morning, tens of thousands of Syrians flocked to the heavily fortified area surrounding the Syrian embassy in Lebanon as expatriate voting began ahead of the June 3 presidential election".
"…this was the most visible mass gathering the country has witnessed in the past few years and possibly, the largest-ever gathering of Syrians outside their country," Al Jazeera said.
"Cars and buses carrying Syrian voters thronged the main highway linking Beirut city center to Baabda, where the embassy is located, while a stream of people trying to reach the embassy could be seen walking uphill for several kilometers in the blistering heat, amid the smell of gas and the loud nationalistic anthems blaring from some cars".
"The trip was not worthwhile for a large number of voters who could not reach the embassy, tucked away in a narrow street in a security complex, as the Lebanese military tried to manage the crowds," said the Qatari media outlet.
"At one point around noon, soldiers began beating up Syrians who were trying to storm the embassy building, using batons and sticks. At the embassy, poll workers were struggling to check voters' IDs."
Al Jazeera also said, "Photos of Assad were plastered on cars and minibuses, national flags and t-shirts. Chanting for Assad broke out periodically on the highway, in front of the embassy and even in the polling room." "God, Syria, Bashar only," were the most common slogan.
Photos of the two candidates challenging Assad were conspicuously "absent from the scene." Several Syrians interviewed by Al Jazeera voiced their support for none other than Assad.
Fifty-four-year-old Marwan Nayef, a Sunni sheikh from Aleppo, was struggling to reach the embassy to vote for Assad. Nayef fled the violence in his city almost one year ago. "Voting is worth all the pain. We want Syria to return to what it used to be before the chaos began and Assad is the only one who could do that," he told Al Jazeera.
Nayef said his support for Assad was a clear example that Syrians were not sectarian. He also said that religious men who took the side of the opposition were "wrong".
Reuters news agency also said, "Refugees waved flags and held pictures of Bashar al-Assad as they crushed into Damascus's embassy in Lebanon on Wednesday to join Syrians worldwide voting early in an election that looks certain to give him a third seven-year term as president."
"Several countries that oppose Assad, including France, have blocked the voting but Syrian government media said people were still able to participate in many countries".
"In Lebanon, which holds a million Syrians – most of them refugees – citizens were driven to the Syrian embassy in Beirut. Their buses blocked one of Beirut's three main highways and men and women waved Syria's flag and held up pictures of Assad," Reuters said.
The news agency added, "Tens of thousands of people were bottle-necked into the entrance, some getting squashed by the hordes behind them. The Lebanese army had brought armored vehicles and firemen sprayed the crowd with water to help cool them in the midday heat".
"Inside the embassy, men and women voted. None said they had voted for the two candidates other than Assad – Hassan Abdallah al-Nouri and lawmaker Maher Abdel-Hafiz Hajjar."
"Allah, Syria and Bashar only," the crowd of men shouted inside the ballot room.
Radwan Said, a 23-year-old man from the Syrian province of Raqqa, said he had voted for Assad. "He's the only choice. He will crush the terrorists," he told Reuters.
Reuters met Syrian voters from all the different sects, including Sunnis, Shiites, Syrian Armenians and Kurds, proving that the war in Syria is not a sectarian one.
Voting for the Syrians inside the country will start on June 3.
Polling centers opened since early Wednesday morning in Iran, Lebanon, Russia, China, Yemen, Indonesia, Malaysia, Venezuela, Jordan, Sudan, Oman, Czech, Belarus, India, Sweden, Scandinavian countries and many other states throughout the world.
The overwhelming number of voters was reported from all embassies from across the world.
Yet, the UAE, Qatar, Saudi Arabia and a number of the western states did not allow the voting take place on their soil.
Despite frequent claims about their support for human rights and democracy, France, Germany, Austria and Belgium banned the Syrian election in a movement condemned by the Damascus government and Syrians. Syrian expatriates in France ran a symbolic election in Paris on 25 May in protest at the decision.