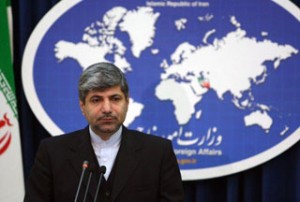 Iran says the recent Western media reports about cooperation of an Iranian researcher, who went missing in Saudi Arabia, with UN nuclear watchdog proves that the US had a hand in his abduction.
"It is obvious that the US and European security bodies are aware of Shahram Amiri's situation and his place," Iranian Foreign Ministry spokesman Ramin Mehman-Parast told reporters on Tuesday.
"The US security forces are involved in the case. They confirmed all words we had said," he added.
Shahram Amiri, a researcher at the University of Malek Ashtar, went missing in the Saudi holy city of Medina while on a pilgrimage visit earlier this year.
He is among several Iranian nationals who Tehran says have been illegally detained by the US authorities.
Tehran has earlier accused Riyadh of handing Amiri over to American officials.
However, the US State Department said it had "no information" about the whereabouts of Amiri.
On Monday, Mehman-Parast reiterated that the US had hand in abduction of the Iranian researcher.
"News about cooperation of (Shahram) Amiri with US confirmed remarks by Iranian officials on White House role in the kidnap of the Iranian national," the spokesman told Iranian Labor News Agency (ILNA).
He made the remarks after Western security sources released reports that Amiri has allegedly cooperated with inspectors of the International Atomic Energy Agency (IAEA) and provided information about Iran's Fordo uranium enrichment plant.
"European security forces released news about Amiri's cooperation with the IAEA inspectors based on information that US security forces provided to them," he said.
Mehman-Parast added that despite US claims, Washington has information about Amiri's fate.
"US officials should give response to questions raised by Iranian authorities about Amiri," added the spokesman.