Lebanon
What Are the New Hezbollah-Israeli Rules of Engagement?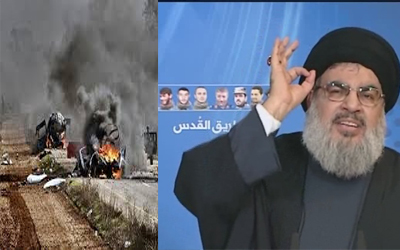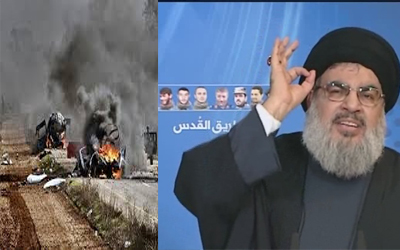 Hezbollah Secretary General Sayyed Hasan Nasrallah announced that the party is no longer concerned with the rules of engagement which govern the military mechanisms between the Resistance and the Israeli occupation army.
What does Sayyed Nasrallah mean?
Whenever the United Nations assigns its peacekeeping troops to deploy in a certain area in order to end the military disputes, all the involved parties have to abide by the rules enforced by the International Organization to control the engagement in case they approve them.
As the Israeli war on Lebanon in 2006 ended, the International resolution 1701 was issued in order to end the aggressions, violations and all the military actions which affect inversely on mulling a permanent solution.
Since then, the Israeli enemy has transgressed the rules of engagement (stated by the International Resolution 1701) hundreds of times, violating Lebanon's airspace, infringing the Lebanese International waters by its warships, incurring the Lebanese territories, planting explosive devices and kidnapping civilians.
In response, the Islamic Resistance ambushed an Israeli military unit which violated the Lebanese borders in Labbouneh, imposing on the Zionist enemy different rules of engagement away from those enforced by the International Resolution 1701.
Those rules stated implicitly that whenever the Israeli occupation army violates the Lebanese sovereignty, Hezbollah has the right to respond similarly.
After the Zionist enemy killed 6 of Hezbollah mujahideen (fighters) in Syria's Quneitra on Jan 18, the Resistance responded by unexpectedly launching a rocketry attack on an Israeli military convoy in the occupied Shebaa Farms, killing and injuring a large number of the entity's officers and soldiers.
Hezbollah Secretary General Sayyed Hasan Nasrallah asserted that the party decided to evade all the rules of engagement, meaning that any Israeli aggression will be confronted by a greater response.
"Following the Qunaitra operation and the response in the Shebaa Farms, I want to be clear: We in the Islamic Resistance in Lebanon are no longer concerned with the so-called rules of engagement. We have the right to respond in any place and at any time and in the way we deem appropriate," Sayyed Nasrallah said during a ceremony commemorating the six Hezbollah martyrs and the Iranian commander two days after Hezbollah's retaliation.