Asia-Pacific
WHO warns of cholera outbreak in Bangladesh camps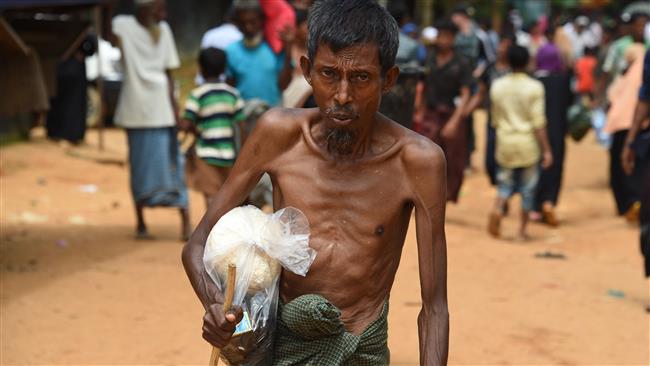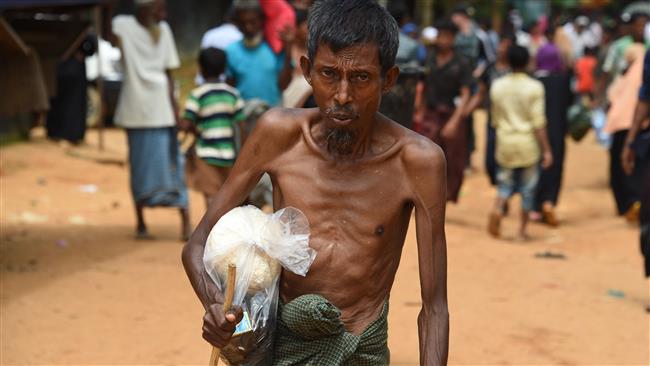 The World Health Organization (WHO) has warned of a growing risk of a cholera epidemic at makeshift refugee camps in Bangladesh where hundreds of thousands of Myanmarese Rohingya Muslim refugees are sheltered in dire conditions.
Since August 25, more than 435,000 Rohingya Muslims have been pushed out of their ancestral land in Rakhine State in western Myanmar because of government-sanctioned violence by soldiers and Buddhist mobs.
The army claims Rohingya militant attacks prompted a military "cleansing operation," but numerous reports, including by United Nations (UN) officials and eyewitnesses, have revealed horrific abuse taking place against the Rohingya Muslims under military siege in Rakhine, including killings, rapes, and torture.
The UN has described the practices against the Rohingya as "textbook ethnic cleansing."
Muslims fleeing the violence in Myanmar have been arriving in neighboring Bangladesh, which has been accepting them for decades. As a result, some 68 sprawling refugee camps and settlements have emerged in Bangladesh along the border with Myanmar's Rakhine.
'Critical and challenging situation'
The WHO said on Monday that the camps did not have safe drinking water and lacked sufficient hygiene.
"Risk of waterborne diseases is high, especially there is very high risk of cholera and this is why everyone is concerned," the WHO said in a statement.
The group Doctors without Borders (MSF) warned last week that the camps were on the brink of a public health disaster as filthy water and feces flowed openly through the camps.
There are also acute shortages of food and medicine in what has quickly become one of the world's most urgent refugee crises.
The WHO statement said that, "Interventions are being scaled-up, however, the situation remains critical and challenging."
The latest influx has overwhelmed the camps around Cox's Bazar.
The WHO says mobile medical centers have been set up, while Bangladeshi health authorities say they have treated some 4,500 Rohingya for diarrhea in a month and vaccinated some 80,000 children for measles and polio.
"We are trying our best to face the challenges. But we are concerned," Enayet Hossain, the deputy head of Bangladesh's health services department, told AFP.
The department said that at least 10 Rohingya Muslims had died in Bangladesh since the influx, most from bullet and blast wounds suffered in Rakhine.
Two elderly Rohingya men died of diarrhea at a charity clinic more than a week ago, said Misbah Uddin Ahmed, a health department official at Ukhia, where most of the camps are located.
Two Rohingya women, aged 50 and 60, were shifted to a hospital in the port city of Chittagong after they were diagnosed with HIV, police said.
Ahmed said specialists from Bangladesh's International Center for Diarrheal Disease Research (ICDDRB) and government scientists had visited camps to take samples. "They are going to set up two field stations here," he said.
The Bangladesh army forces, which have taken over aid management, said command had made sanitary facilities the "highest priority" in an effort to stave off a health emergency.
Meanwhile, the situation was said to be improving as hundreds of latrines and tube-wells were being dug by government services and local charities.
The refugees have given shocking accounts of killings and mass rapes by Myanmar soldiers and Buddhist mobs.
UN doctors based in the makeshift clinics in Bangladesh have cited symptoms of rape and horrific sexual abuse on Rohingya Muslim women arriving from western Myanmar.
'Mass grave' found in Myanmar
Meanwhile, Myanmarese military forces claimed on Monday that they were searching for dozens of missing Hindu villagers feared dead after the discovery of a mass grave containing 28 corpses outside the village of Ye Baw Kyaw in Rakhine.
Myanmar claimed the Hindu villagers, who had not yet been identified, had been massacred by Rohingya militants and buried in the mass grave found by military troops in Rakhine on Sunday.
Myanmar has blocked access to Rakhine, making it impossible for independent and international bodies to verify such claims.