Syria
Will of Syrian people, army defeated terrorists: President Assad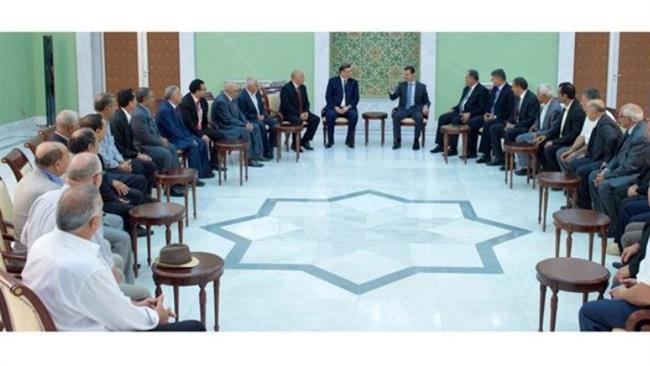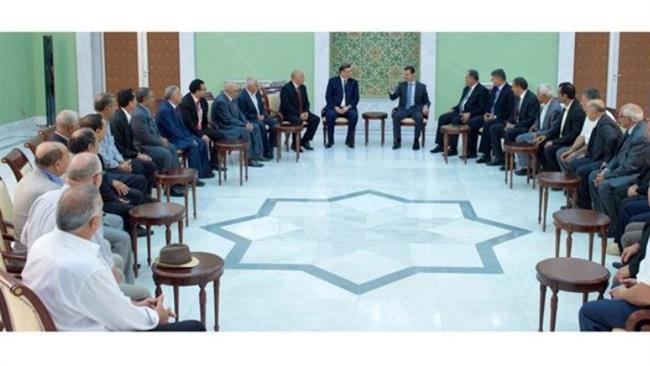 President Bashar al-Assad has praised the Syrian people and army, saying their will has defeated terrorism in the country.
"The will of the Syrian people and their determination as well as the heroism of the Syrian Arab Army" are the most important reasons that have helped the country defeat foreign-backed militants, Assad said on Monday.
Assad also appreciated the Syrian people, saying they did not allow terrorist groups and their backers to halt their daily activities.
He made the remarks in a meeting with a delegation from Tunisia's General Labor Union (UGTT), headed by its Assistant Secretary General Bu Ali Mubaraki, in the capital Damascus, Syria's official news agency, SANA, reported.
During the meeting, Assad stressed that the delegation's visit carried many messages to the world as it "reflects the pulse of the Arab public opinion and its orientations."
In turn, members of the Tunisian delegation confirmed that they came to Damascus to convey a message of support for the Syrian people.
The Syrian people have showed matchless support for their leadership and army, which are defending the dignity of the Arab nation, the delegation said.
The Tunisian delegation stressed that the West does not want Syria to play any role except according to what they dictate.
The delegation said the West has targeted Syria because of its fair stance towards regional developments.
The delegation also described Syria as a state which remains at the forefront of the campaign against terrorism. "If what is planned against Syria succeeded, the chaos would have prevailed throughout the Arab region. Therefore, defending it is defending all the Arabs."
The Nobel Peace Prize-winning UGTT is known to many Tunisians for the role it played in the North African country's historic revolution of 2011.
Syria has been gripped by conflict since March 2011. The government has repeatedly blamed certain foreign countries for the spread of the devastating militancy in the country.
Over the past few months, Syrian forces have made sweeping gains against Takfiri elements, which have in turn increased their acts of violence across the country.
Tunisia, too, has experienced violence since the 2011 uprising that ousted the country's dictator Zine El Abidine Ben Ali, who was in power for over two decades. The country has also been affected by the growing instability in neighboring Libya, which has been in chaos since former dictator Muammar Gaddafi was toppled and later killed in 2011.
During the past six years, Tunisia has witnessed multiple terrorist attacks.
Tunisia is among the countries with the highest per capita number of extremist militants operating in other countries. Thousands of Tunisians have reportedly left their country since 2011 to fight alongside extremist groups in Iraq and Syria.
The gloomy status quo of Daesh has growingly worried Tunisians who fear that many militants would return to the North African country. Late last year, Tunisian authorities warned about the return of thousands of Takfiri militants, calling for "exceptional measures" to combat the phenomenon.