Pakistan
Woman polio worker killed in northwest Pakistan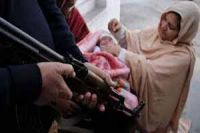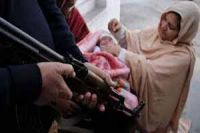 Unknown gunmen on motorcycles opened fire on a woman polio worker in Pakistan's Khyber Pakhtunkhwa's province on Monday, killing her on the spot.
According to Dawn News, official sources said the woman was leaving her home to start her duties with the anti-polio team when she was shot dead in Sukari area of Bannu district in the province.
The attackers fled away from the scene after the incident, they said.
A case was registered at the Cantt Police Station.
Meanwhile, nearly 4,190 teams vaccinated a total of 649, 887 children against nine diseases, including polio in the ninth phase of the 'Sehat-ka-Insaf' immunization campaign in Peshawar district.
Recently-appointed Minister for Health Shahram Khan Tarakai inaugurated the campaign yesterday and pledged to make all efforts possible to eradicate polio virus from Khyber-Pakhtunkhwa.