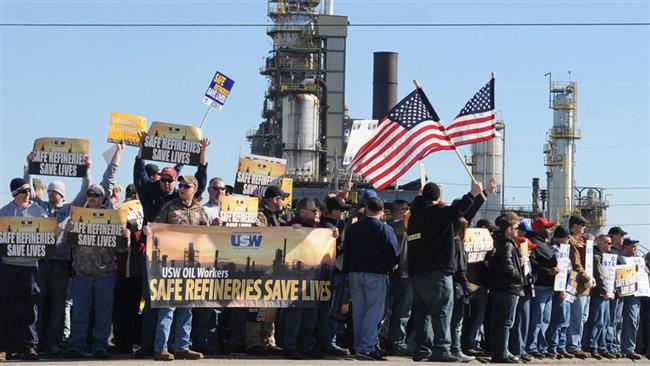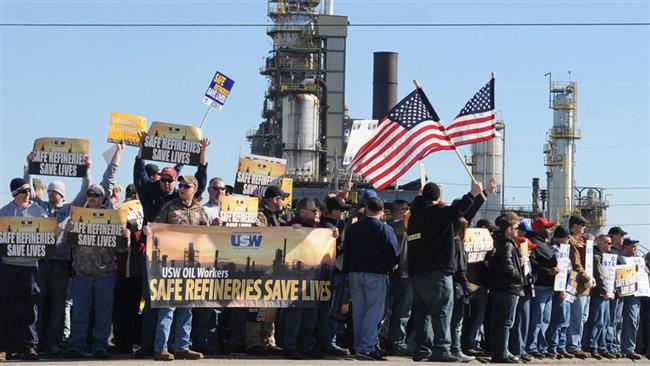 The number of US oil refineries facing the threat of a strike is expanding after workers at the country's largest refinery in Texas walked off their jobs on Saturday.
Workers at the Motiva Enterprises refinery in Port Arthur, Texas joined the strike shortly after talks between the United Steelworkers union (USW) and the Royal Dutch Shell oil company ended on Friday night.
The USW also gave notices on Friday of strikes to begin in 24 hours at Motiva's oil refinery plants in Convent, Louisiana and Norco, Louisiana and the Shell company's chemical plant in Norco.
"The industry's refusal to meaningfully address safety issues through good faith bargaining gave us no other option but to expand our work stoppage," USW International President Leo Gerard said in a statement.
If no agreement is reached between USW and Shell by Sunday, a total of 6,550 workers at 15 oil and chemical plants will be striking in the largest national refinery strike since 1980. Those plants account for 18.5 percent of US oil production capacity.
USW is the largest industrial labor union in North America, representing more than 30,000 US oil workers. It has members at more than 200 refineries, fuel terminals, pipelines and chemical plants across the US.
USW's lead negotiator says safe staffing levels at refineries and chemical plants, as well as the absence of no-retrogression language, were the main points of disagreement in the talks.
So far, only one refinery has shut down due to the strike as companies have called on temporary replacement workers to keep plants running at nearly normal levels.