Afghanistan
Asia-Pacific
World News
World countries weighing diplomatic options in dealing with Taliban after Afghan takeover
As the political and security uncertainty in Afghanistan remains far from resolved following the Taliban takeover of the country, international shaming of the US government and NATO over the messy withdrawal continues, with world countries weighing their diplomatic options in dealing with the Taliban while at the same time scrambling to evacuate their citizens from the country.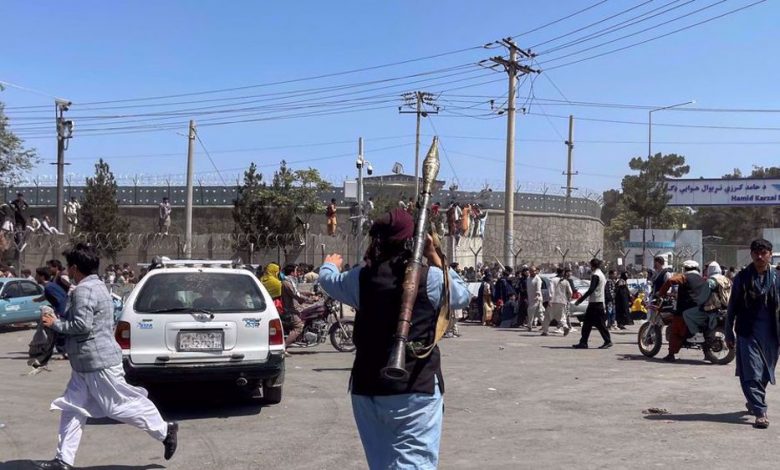 The militants intensified their offensive and rapidly overran major cities in recent days. The militants laid siege to the capital, Kabul, on Sunday, forcing the sitting Afghan president, Ashraf Ghani, to flee the country. That happened as US-led forces withdrew from Afghanistan.
The unfolding events culminated in chaotic scenes on Monday, with thousands of Afghan civilians and diplomats swarming the Kabul airport, hoping to find seats on flights leaving the country.
So far, the Taliban have vowed to respect the rights of women, seek good relations with other countries, and not to exact retribution on former members of the Afghan military, but many Afghans remain skeptical.
This is how the world has reacted to the Taliban takeover of Kabul:
The European Union foreign policy chief says the bloc will only cooperate with the Taliban if they respect fundamental rights, including those of women, and prevent the use of Afghanistan's territory by terrorists.
Joseph Borrell made the remarks in a statement on Tuesday, following an emergency meeting of EU foreign ministers to discuss the Taliban's seizure of Kabul.
"I haven't said that we are going to recognize the Taliban," Borrell said, adding, "I just said that we have to talk with them for everything, even to try to protect women and girls. Even for that, you have to get in touch with them."
He described the fall of Kabul to the Taliban as an "important geopolitical event," stressing that there needed to be dialog with the militant group soon to avert a humanitarian crisis in the war-ravaged country.
Borrell said the EU's priority was to evacuate its staff and Afghan helpers from Kabul. He put the number of the locals who had been working for the EU at almost 400, their families included.
China's Foreign Ministry has spoken of a political will to establish new diplomatic relations With Afghanistan once the current situation stabilizes.
The ministry said on Wednesday that Beijing will start helping Afghanistan after the Taliban establish control over the country. 
Canadian Prime Minister Justin Trudeau says his country has no intention of recognizing the Taliban as Afghanistan's governing force following the militant group's takeover of Kabul.
"Canada has no plans to recognize the Taliban as the Government of Afghanistan," Trudeau said on Tuesday. "They have taken over and replaced a duly elected democratic government by force."
British Prime Minister Boris Johnson says the UK will work with other countries to avoid a humanitarian disaster in Afghanistan, stressing that any recognition of the new government must happen on an international basis.
Johnson made the remarks in a phone conversation with his Pakistani counterpart, Imran Khan, an unnamed Downing Street spokesperson said on Tuesday after the call.
"The Prime Minister stressed his commitment to work [sic] with international partners to avoid a humanitarian disaster in Afghanistan and the wider region," the spokesperson said.
Finland has said it would stop offering development aid to Afghanistan following the Taliban's seizure of power, adding that it would reconsider the decision when the situation clears.
"We have to see how the situation develops. That said, Finland is not abandoning the Afghan people, its children, women, men, journalists, doctors, deminers or human rights fighters," Ville Skinnari, minister for development cooperation, said in a statement.
"Our objective, together with our international partners, is to protect what we have already achieved. Finland requires its partners to respect human rights," he said.
Huge international airlift underway at Afghanistan's Kabul airport
A huge international airlift of foreigners and Afghans who worked with foreign countries is underway at Afghanistan's capital, Kabul.
French Defense Minister Florence Parly has announced that the firstmilitary plane carrying French evacuees from Afghanistan landed overnight in Abu Dhabi.
She said France was working on running further flights out of Afghanistan after military flights evacuating diplomats and civilians resumed early on Tuesday.
The White House says the US military evacuated about 1,100 Americans, permanent residents of the United States, and their families from Afghanistan on Tuesday.
"Now that we have established the flow, we expect those numbers to escalate," an unnamed official said in a statement, adding that some 3,200 people had been evacuated by the US military so far.
The US military also vowed on Tuesday to accelerate evacuation flights out of Afghanistan.
An Indian Air Force plane has evacuated more than 170 people from Kabul, including Indian Ambassador to Afghanistan Rudrendra Tandon.
Tandon told reporters that nearly 200 staff from the Indian mission had been evacuated in three days, alongside Indian civilians working there.
Tandon called the situation in Afghanistan "fluid," adding that a small number of Indian nationals had remained in the country whom the authorities were trying to exfiltrate.
Danish Defense Minister Trine Bramsen says Denmark will use its military planes in the area to help allied countries evacuate people from Afghanistan.
"We are still operational in Afghanistan and have increased capabilities in the area. Other countries have asked us for our assistance," Bramsen said on Tuesday. "We will continue the operation after we have evacuated our own citizens and others who we are responsible for," she said.
Denmark, a close ally of the United States, has fought alongside US forces in Afghanistan since 2002.
Australian Prime Minister Scott Morrison says his country has flown 26 people out of Afghanistan in its first rescue flight.
Morrison told reporters in the capital, Canberra, on Wednesday that the first Australian rescue flight had arrived in Afghanistan late on Tuesday to deploy personnel to facilitate the rescue of its citizens and an unspecified number of Afghans who had been given visas after working for Australia.
The flight was able to depart after security around the airport in Kabul improved with the presence of British and US troops, he added.
Australia has already said it would send 250 military personnel to Kabul to help with the evacuation process.
However, Morrison has said Australia is unlikely to be able to help all of those who assisted the country in Afghanistan.
Japan is also in close contact with a "small number" of its nationals still in Afghanistan, seeking to ensure their safety amid a deteriorating security situation in Kabul.
This comes as Japan has closed its embassy in Afghanistan and has said it evacuated the last 12 personnel earlier this week.
Chief Cabinet Secretary Katsunobu Kato told a news conference that none of the Japanese nationals still remaining in Afghanistan had been reported to have suffered injuries, but declined to give details, citing security concerns.
A Japanese Foreign Ministry official also said most of those individuals worked with international organizations, but he also declined to give details, including estimates of how many there had been.
"We are making the safety of the Japanese still in Afghanistan our top priority," the unnamed official said.
Meanwhile, Dutch Foreign Minister Sigrid Kaag says the Netherland's evacuation efforts in Afghanistan were unsuccessful on Tuesday night as chaos outside Kabul airport made it impossible to get eligible people on a plane.
The minister described the situation as "awful," saying many were at the gates of the airport with their families but US armed forces securing the airport did not allow any Afghans to enter the gates even if they had the right credentials.
He said a Dutch military plane had been on the ground in Kabul only for about half an hour and left the Afghan capital without any people destined for the Netherlands on board on Tuesday evening. "I hope the situation will improve on Wednesday. We are trying to get a grip on the situation and to make sure that we get everyone we want to evacuate out."
The Netherlands aims to get up to 1,000 local embassy workers, translators, and their families out of the country.
Reactions to Afghanistan's turmoil
Czech President Milos Zeman says NATO has failed in Afghanistan and its legitimacy is in question, following the Taliban's rapid advances in the conflict-ridden country.
Zeman made the remarks during an interview published by www.parlamentnilisty.cz on Tuesday, a website favored by the president for airing his views.
He said NATO's main role was to fight global terrorism, but the alliance had failed at that task now, calling for his country to focus to national defense rather than "wasting money" on the alliance.
"The distrust towards NATO from a number of member countries will grow after this experience, because they will say, 'If you failed in Afghanistan, where is a guarantee that you won't fail in any other critical situation?" Zeman said.
"Now that investing in NATO is kind of wasting money, our defense spending should focus on national defense, on national (military) procurement," he added.
German President Frank-Walter Steinmeier says the turmoil in Afghanistan is "shameful" for Western nations, after images showed desperate people trying to flee Kabul.
"We are experiencing a human tragedy for which we share responsibility," he said in a statement at the German presidential palace, adding, "The images of despair at Kabul airport shame the political West."
"All the more now we have to stand by those to whom we are indebted for their work and support," he added.
Meanwhile, NATO Secretary-General Jens Stoltenberg says the Taliban must not let Afghanistan become a breeding ground for terrorism again, warning that the alliance retained the military power to strike any terrorist group from a distance.
Stoltenberg called on the Taliban to facilitate the departure of all those who wanted to leave the country, adding that Western military allies had agreed to send more evacuation planes to Kabul.
A spokesperson for United Nations High Commissioner for Human Rights Michelle Bachelet has expressed fear for the safety of thousands of Afghans who have worked on human rights issues.
Shabia Mantoo, a spokesperson for the United Nations Human Rights Council (UNHRC), says the world body had issued a "non-return advisory" to states calling for a halt to forced returns of Afghan nationals, including asylum seekers whose claims had been rejected.
Mantoo said that the UNHCR had welcomed some suspensions of deportations as "good news."
The International Criminal Court's (ICC) chief prosecutor Karim Khan has also called on all parties in the Afghanistan conflict to respect humanitarian law.
"I call on all parties to the hostilities to fully respect their obligations under international humanitarian law, including by ensuring the protection of civilians," Khan said in a statement, adding that he was concerned about reports of revenge killings and persecution of women and girls.
He said his office might exercise jurisdiction over any genocide, crime against humanity, or war crime committed in Afghanistan since it joined the court in 2003.
Intl. meetings to be held on Afghanistan
The United Nations Human Rights Council has announced that it would hold a special session on the situation in Afghanistan next week to address the "serious human rights concerns" following the Taliban takeover.
The Geneva forum is set to convene on August 24 following an official request jointly submitted by the representatives of Pakistan and Afghanistan, and supported by nearly 90 countries so far, a UN statement said.
Convening a special session requires support from one-third of the Council's 47 member states
The presidents of the United States and Britain have also agreed to hold a virtual G7 leaders' meeting next week to discuss a common strategy and approach on the situation in Afghanistan.
The two leaders "discussed the need for continued close coordination among allies and democratic partners on Afghanistan policy going forward, including ways the global community can provide further humanitarian assistance and support for refugees and other vulnerable Afghans," the White House said in a statement on Tuesday.
Meanwhile, Britain has announced a resettlement scheme for Afghans fleeing the Taliban, offering an initial 5,000 places in the first year, rising to up to 20,000 in the long term.
"This resettlement scheme will be kept under further review for future years, with up to a total of 20,000 in the long term," the Home Office said in a statement.
London said priority would be given to those most at risk, including Afghan women, children, and others forced to flee or facing threats and persecution, offering them a chance to remain in Britain indefinitely.
British Interior Minister Priti Patel also said that the UK had managed to remove around 1,000 people a day from Afghanistan.
"We're still bringing out British nationals… and those Afghan nationals who are part of our locally employed scheme," she said on Wednesday.
In a separate development on Tuesday, Afghan vice president Amrullah Saleh said in a post on his Twitter account that he was in Afghanistan and was the "legitimate caretaker president."
Saleh had said after a security meeting chaired by the then-President Ghani last week that he was proud of the armed forces and the government would do all it could to strengthen resistance to the Taliban.
---