Iran
'World powers recognized Iran enrichment right'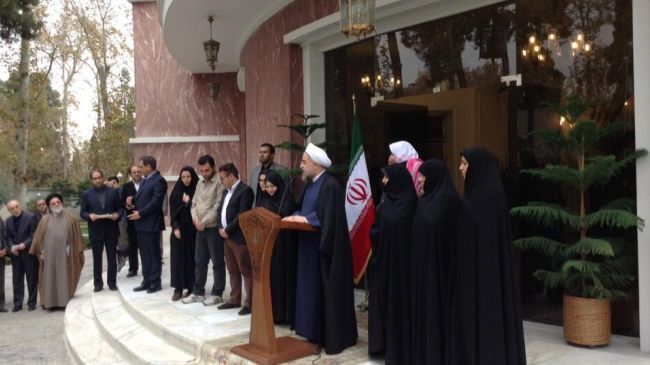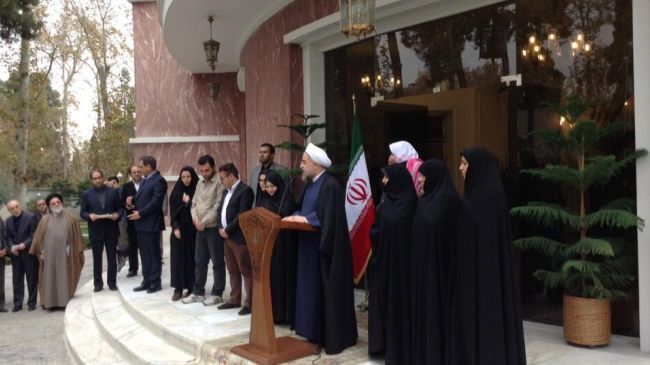 Iran's President Hassan Rouhani hails the recognition of Tehran's right to enrich uranium by the world powers as one of the achievements of the deal between the Islamic Republic and the Sextet.
Addressing the Iranian nation on Sunday, Rouhani said the enrichment right of the Islamic Republic has been "explicitly" stated in the deal between Iran and the five permanent members of the UN Security Council plus Germany.
Rouhani added that Iran inherently has the right to enrich uranium due to being a Non-Proliferation Treaty signatory, but the recognition of this right by the world powers is "politically valuable."
The Iranian president added that the country's enrichment activities would continue, adding that activities at Natanz, Fordow, Arak and Isfahan as well as Bandar Abbas facilities would be maintained.
Rouhani said as a result of negotiations, the world powers realized that sanctions against Iran are futile and only respect for the Iranian nation would prove effectual.
"The Administration of Hope and Prudence seeks to create an atmosphere of trust between the Islamic Republic and countries that are interested in having friendly relations with this great nation."
The Iranian chief executive noted that comprehensive nuclear negotiations would begin immediately, adding that with a comprehensive agreement all sanctions against Iran, including those imposed by the UN and unilateral bans imposed by the EU and US, will be gradually removed.
"The deal states that all sanctions will be lifted on a step by step basis as negotiations continue," Rouhani said.
Earlier on Sunday, Iran and the Sextet – Britain, China, France, Russia and the US plus Germany – reached an interim deal after more than four days of intense negotiations.
The agreement paves the way for final resolution of the West's decade-old dispute with Iran over its nuclear energy program.