Palestine
Would the world lament Rawiya and her four kids as it did for one Israeli child?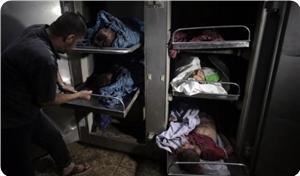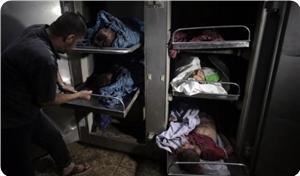 Eight-year-old Thaer Jawdeh was the only survivor from a recent Israeli aerial attack that massacred all members of his family as they were inside their house in Beit Lahiya, according to spokesman for the Palestinian health ministry Ashraf Al-Qudra.
Thaer lost his right foot and some fingers of his right hand and he is still suffering from deep lacerations in the bones of his left hand in addition to shrapnel injuries in his face and chest, spokesman Qudra explained in facebook remarks.
"Thaer has no idea about what has happened to his mother Rawiya and his sisters Tasneem and Raghad as well as his brothers Osama and Mohamed who were playing in the yard of their simple house in Beit Lahiya before they would spend a few remaining hours with their fasting mother, who was sitting on her mattress with her eyes cuddling her children, who were waiting for the sunset time to join their mother's iftar."
"At the time, his third sister Rahaf, aged 11, was at the neighbor's house visiting a girlfriend and her visit was like her survival amulet, in addition to their elder brother Obeida, who was saved by the Divine Providence that destined his visit to his paternal aunt in Al-Bureij."
"What had Rawiya and her daughters and sons committed in order for Israel to savagely murder them with its warplanes? What was the food that she was making and made the leaders of the Zionist enemy order her killing along with her children?"
"Would the world lament Rawiya and her four kids as it did for the killing of one [Israeli] child in Beersheba?"
"One child was killed in Beersheba, but Israel had exterminated 90 Palestinian families and claimed the lives of 577 children, 260 women and 101 elderly people, so who should be the criminal and who should be brought to the international criminal court as war criminals?" spokesman Qudra said.