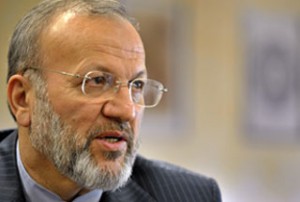 Iran's foreign minister says wrong US policies have led to the rise of extremism and militancy in Afghanistan and the region.
Visiting Iranian Foreign Minister Manouchehr Mottaki said in a meeting with the President of Djibouti, Ismail Omar Guelleh, that wrong policies of the past US administration in the Middle East have led to the rise of militancy and extremism in Afghanistan and the region, IRNA reported on Friday.
Mottaki noted that non-regional powers are not capable of resolving issues of the region.
While the two officials hailed improving commercial and industrial ties between Tehran and Djibouti, regional issues of concern were also taken into account.
Meanwhile, both the Iranian visiting minister and Djibouti's president said the issue of Palestine can only be resolved by giving the Palestinians all of their rights.