Europe
'Yellow Vest' protesters keep up campaign in 11th week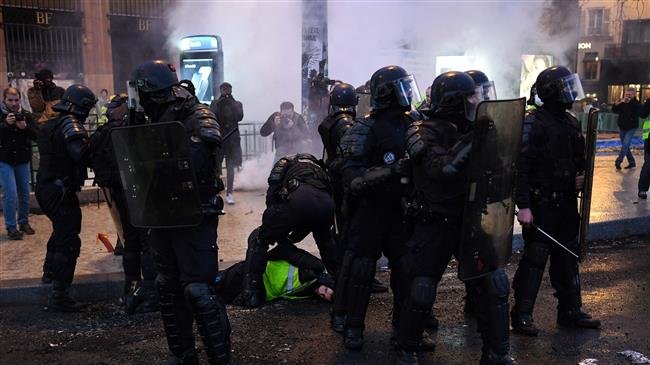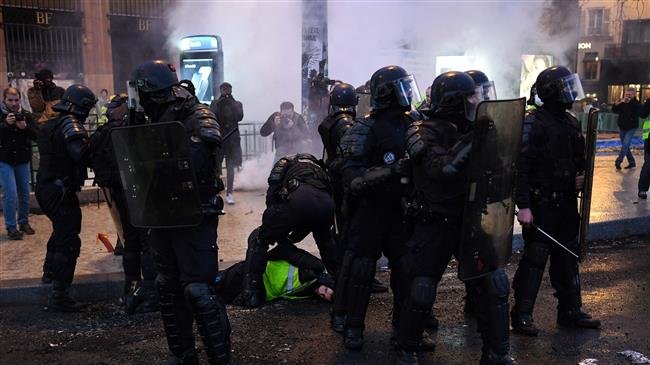 With the "Yellow Vest" movement into its eleventh week, French riot police have clashed with protesters in the capital Paris as thousands of people also took to the streets in several other cities in the country, denouncing economic policies of the administration of President Emmanuel Macron.
Demonstrators threw projectiles and Molotov cocktails at riot police, who in turn used tear gas and water cannons, at the Place de la Bastille square on Saturday afternoon.
According to the French Interior Ministry, as of early Saturday afternoon, some 22,000 protesters took to the streets around France, with about 2,500 people demonstrating in Paris.
Police made 42 arrests in Paris, authorities said.
A Paris police spokesman said four marches were taking place during the day in the capital, ahead of a night of demonstrations dubbed the "Yellow Night," at Republic square, a common venue for demonstrations in Paris.
"There have also been threats about demonstrations continuing well into Saturday night. The worst violence is currently in Place de la Bastille," he said.
Elsewhere in France, demonstrators marched through the eastern city of Strasbourg on the European Parliament.
In the southwest, protests took place in Bordeaux and Toulouse while there were some confrontations during protests in Marseille and Lyon.
The "Yellow Vest" movement initially erupted in November 2018 amid public outrage over a planned hike in fuel prices. The embattled French president later backed down and suspended the increase, but the protests did not stop and turned into a broader campaign against high costs of living blamed on Macron's economic policies.
Many of the protesters are demanding the resignation of Macron, a demand dismissed as undemocratic by the government.
The movement is said to be the biggest political crisis of Macron's 20-month presidency and has brought his popularity ratings to an all-time low.
In recent weeks, some of the protests have turned into major riots described as the most violent clashes in France in decades.
Since the onset of the movement, 10 people have been killed and hundreds of others have been injured. Thousands more have been arrested by security forces.