Europe
'Yellow vests' block French borders ahead of Christmas, as numbers wane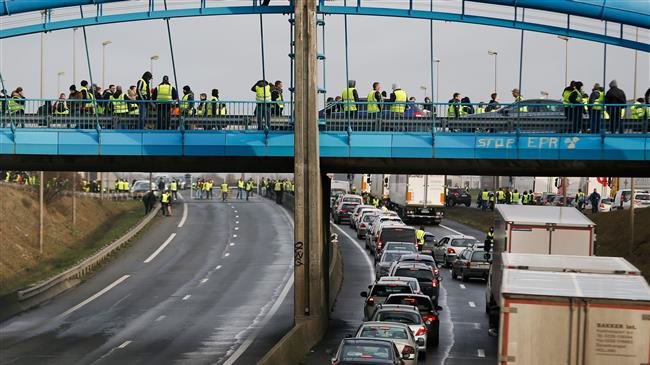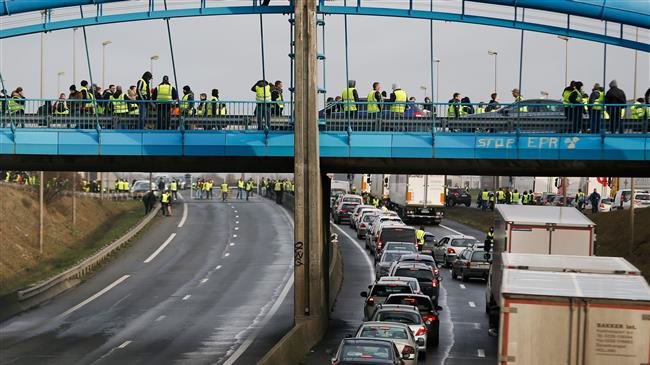 With just a few days to Christmas, "yellow vest" protesters in France have blocked the country's border points to protest the government's economic policies for a sixth consecutive week.
During the protests on Saturday — the sixth since they originally began in rural and urban France — hundreds of people dressed in yellow vests disrupted traffic and blocked trucks near the border between the country and Spain before security forces stepped in and fired tear gas to disperse them.
The French protesters were joined by dozens of Catalan pro-independence activists, who were also wearing yellow vests.
Blockades were also reported near the border with Italy and at a bridge in Strasbourg near the German border. Similar demonstrations were held in major French cities such as Marseille, Lyon, Toulouse, and Orleans.
Protests wane ahead of Christmas break
But the number of the anti-government protesters in the French capital of Paris and across the country is reported to have significantly declined after several weekends of chaos and destruction since the protests began in mid-November.
According to reports, the turnout has dropped from official estimates of 282,000 on November 17 to 166,000 on November 24, to around 136,000 on December 1 and 8, and to 66,000 last Saturday.
'Driven by hatred of institutions'
France's Interior Ministry said a total of 38,600 people had taken part in protests across the country by early evening, adding that 220 people had been detained nationwide and 81 of them taken into police custody.
Interior Minister Christophe Castaner said there had been a "real slowdown," but some people "continue to come and protest, driven by hatred of institutions."
Paris police said that among those lately detained was a "yellow vest" leader, identified as Eric Drouet.
While the demonstrations are claimed to have lost steam in recent weeks, there are concerns about their effect on pre-Christmas sales, with reports indicating that French stores had experienced an average drop of 25 percent in sales compared with the same period a year earlier.
Earlier in the day, a man lost his life at a "yellow vest" street blockade in southern France, which raised the protest-related death toll to 10. French authorities claimed the death was due to a traffic accident.
The "Yellow Vests" have defied President Macron for a sixth consecutive week.
Since November 17, thousands of demonstrators wearing yellow vests have been gathering in major French cities to initially protest President Emmanuel Macron's controversial fuel tax hike — which he later dropped — and the high costs of living in France.
Analysts have attributed the recent fall in the number of French protesters to tax and salary concessions that Macron offered to the "yellow vest" protesters earlier this month.
But according to numerous polls conducted after Macron canceled his planned fuel-tax hike on December 10, about half of the public believes Macron's concessions were not meaningful enough and that the movement should continue.