Europe
Yellow vests, police clash in Paris on day of 'ultimatum'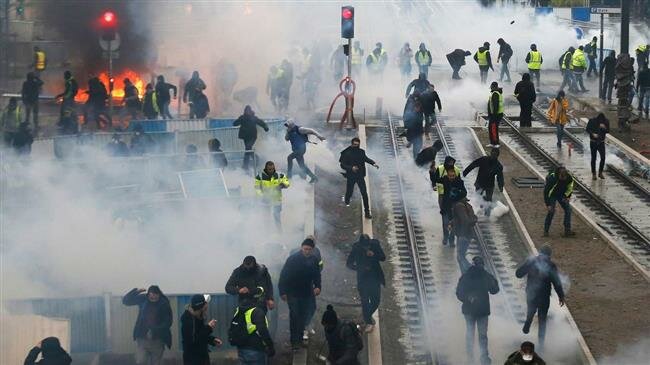 France's "yellow vest" protest movement has rebounded with a major rally in Paris, described by organizers as an ultimatum to the government.
The protest is one of several planned in the French capital on Saturday, where French climate campaigners are also planning a "March of The Century".
The movement had recently been characterized by politicians and media in France as losing steam, but a large crowd gathered on the Champs-Elysees avenue for the 18th straight week of anti-government protests.
Protesters erected barricades near the Champs-Elysees in scenes reminiscent of some of the most tense rallies, prompting police to fire tear gas to disperse them.
The new protests coincided with the end of two months of public debates called by President Emmanuel Macron to take the heat out of the protests.
His hopes, however, were dealt a serious blow with the new protests. The unrest began in November over fuel tax hikes but quickly ballooned into an anti-Macron revolt.
Over 5,000 police were deployed in anticipation of violence after the organizers of Saturday's protest presented it as an "ultimatum" to Macron.
Laurent Casanova, an engineer, said he had come to mark the end of the consultations. "We have been patient but now we want results," he told Agence France-Presse.
The news agency reported a large security cordon thrown up around the Champs-Elysees, where the Arc de Triomphe war memorial was sacked on December 1 in images which drew parallels with war zones.
Thousands have been arrested and at least ten people have been killed since the protests started in November. Hundreds more have also been wounded.